Real-life story: one cat's amazing sense of smell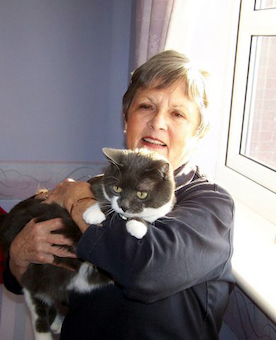 We've received this extraordinary account of a cat's sense of smell from Petplan customer Margaret Wendy Harris of Northwich, Cheshire, and we just had to share it with you. Hope you like it!
Dear Petplan,
I have just discovered that a cat's incredible sense of smell could play an important role in helping people to identify their kith and kin. Many years after being adopted as a baby, I made contact with my natural brother for the first time. Incredibly, my six-year-old shorthaired cat, Megan, has confirmed that we are from the same flesh and blood. Normally, she runs upstairs when strangers - particularly men - call to our home.
I warned my brother that this would be the case when he recently visited us for the first time, but I could not have been more wrong. Amazingly, Megan ambled nonchalantly into the sitting room and not only sniffed knowingly around my brother's legs but allowed herself to be petted and stroked, reassured that, as brother and sister, we have a similar bodily aroma.
Has anyone else experienced an example of a pet's amazing sensory powers? We'd love to hear your stories - just comment below, or if you prefer, email us at petplanblog@petplan.co.uk.