Some cats are just born lucky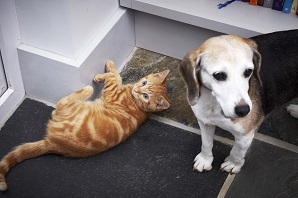 It seems those superstitious types have had it wrong all these years. New research by Petplan shows that black cats are lucky after all
Insurance claims reveal that black moggies are the least accident-prone, and 15% less likely to suffer from accident or injury - while their ginger friends are twice as likely.
Just ask Tonto. The 10-year-old from Peterborough has had a series of mishaps over the years, including ripping out his own claw. But owner Helen Mason says, 'Although Tonto now has a cloven hoof and a forked tongue due to his adventures, he's still going strong and demonstrates that cats really do have at least nine lives.'
And did you know that 'Lucky' is also the third most popular name for Petplan-insured black cats? ('Midnight' is the most popular.) We can do more to make black cats even luckier by giving them a new home, because figures from Cats Protection show that only 20% of all cats adopted from re-homing animal shelters are black.