Tips for Fun and Healthy Dog Outings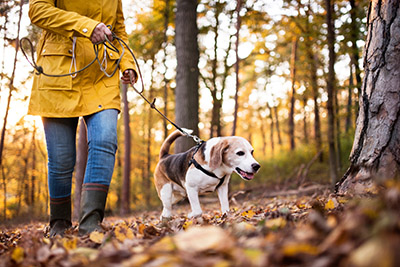 Exercise and mental stimulation are extremely important to keep your canine companion happy and maintain their fitness – but are you making the most out of your daily walk with your dog? To celebrate National Walk Your Dog Month, Petplan takes a look at how to get the most out of walking your dog.
Dog walking training
The best way to enjoy regular walks with your dog is to ensure they are well-behaved and obey commands.
The most important dog walking command is to teach your pup to walk to heel. This will prevent them from pulling on the lead, possibly causing them neck problems, and causing you unnecessary frustration. If your dog is inclined to tug on the lead, you should use a halter or a harness rather than a collar/lead combination. For more tips and advice on lead training your puppy visit our training pages.
Successfully walking your dog is all about body language – take charge and walk confidently so that your dog knows who's boss. If they try to pull ahead, don't shout at them – but reinforce good behaviour by giving your dog a treat when they are walking calmly next to you.
If you will be crossing roads on your walk, it's vital that your dog understands how to sit and wait. Make sure to hold the lead tightly in your hand when walking near roads, as excited dogs can sometimes run after other dogs or interesting smells without warning. Teaching your puppy how to sit is also worthwhile as it helps to negate the chances of them jumping up when out and about, meeting new people.
Toys and treats
Some dogs need more exercise than others; particularly larger breeds such as golden retrievers or border collies. Bring some tennis balls with you to throw for your dog –you can also use a tennis ball 'launcher' or use a tennis racquet to give your dog a great distance to run after the ball.
You should also bring some tasty treats along to reward your dog for good behaviour. Treats are a great way to train your dog to walk on the lead, sit and stay and come back to you.
To make things more fun for both you and your dog, why not join a dog walking group, or make one of your own with fellow dog owners? In this way, both you and your dog can enjoy socialising and some exercise in the fresh air.
Keep things interesting
Dog walks are not just about exercise; dogs also use them as a chance to explore, sniff out new smells and meet other dogs.
Changing location will give your dog additional mental stimulation, as well as providing you with new scenery. Allow your dog lots of time to explore their new surroundings and let them stop to sniff the ground regularly.
For both you and your dog to enjoy a walk, a great idea is to try different routes or places. For example, you could do a woodland walk one day, and a park walk the next.
If you're lucky enough to live within walking distance of a river or lake, some dogs like swimming, another great form of exercise. Just make sure to check whether your dog's breed is a known swimmer first and if your dog enjoys it.
What to bring on a dog walk
For every dog walk, there are some essential items you should always take with you. The following are a few examples:
Non-slip lead and/or harness
Dog bags to pick up after your dog – not doing so can incur a fine
Dog treats
Tennis ball
Dog whistle
Do you have any tips for fellow dog walkers? How do you make the most out of walks with your dog? Let us know in the comments below...