Video: an amazing real-life recovery story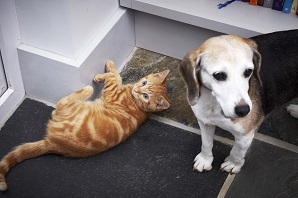 Sue Millard will never forget the distraught call from her daughter Rebecca, on 6 August last year, after her beautiful Collie-Spaniel cross Ben suffered a 35-foot fall. Here is the story of his amazing recovery back to health. From the current edition of PetPeople magazine.

http://youtu.be/DbxhaNmum7I
'My daughter had been out walking on a forestry road when Ben went through a hole in a fence and over a sheer drop. His injuries were so bad that he'd been rushed to the hospital.'
Looking back, Sue admits that the next few days were a blur for the whole family: 'Ben was in such a state - it was touch and go whether they could save him. None of us got much sleep. We cried so much - we thought we'd lose him.
'We've had him since he was just 12 weeks old. He really is part of the family.'
Apart from losing a lot of blood, Ben had a ruptured spleen and a dislocated hip, and his legs needed plates and pins. In fact, his body was so badly damaged that he had to go to Langford Small Animal Hospital, about an hour's drive from their home near Cardiff.
'Rebecca and I collected him from our vets and drove him to the hospital ourselves. It was awful. While Rebecca drove, very slowly, I sat in the back holding Ben, who was all drips and bandages. He couldn't move at all and just laid there, looking at me...'
When they finally arrived at the hospital, three nurses were waiting to rush Ben into the operating theatre.
'I can't tell you how heartbreaking it was,' Sue says. 'He looked so pathetic and we didn't know whether he'd live or die - even though Christina, the vet who operated on him, was wonderful and stayed in constant contact with us over the next few days.'
To begin with, Sue and the family were advised not to visit Ben, but after 10 days, Ben was declared well enough to return home. But when Sue and Rebecca arrived to collect him, they were in for a shock. 'He was so thin and on so many drugs,' says Sue.
'He could only eat rice and we had to carry him everywhere. He really was a shadow of his former self.'
As the weeks progressed, Ben started to eat properly, put on weight - and walk, although with a limp. 'They had put a toggle in to join his pelvis with his hip,' Sue says. The idea is that the muscle grows around the joint and the toggle then disintegrates.
'We were told it would take 14 weeks for it to repair and for the muscle to grow, which would fix his leg. But about 12 weeks down the line, he couldn't put his leg down, so it was obvious there was a problem.'
It turned out that the toggle had broken, so poor Ben had to have a second op. This time, the vet opted for a head and neck excision, which is used to treat painful hip conditions.
Thankfully, the procedure was successful, although Ben still has to have gentle exercise and hydrotherapy to stretch and strengthen his muscles.
'Looking back, it's incredible how well he's done,' Sue says proudly. 'It was such a difficult time. We were also worried about the cost. We called Petplan as soon as he'd had his first op and they were lovely to deal with - and so helpful, as were the vets. It was a great relief, I can tell you.'
Nowadays, Ben is much more like his old self. 'You wouldn't think he'd had any trauma,' says Sue. 'Although he has a slight limp, he bounces about - and when I come in, he jumps up to greet me. In fact, for a nine-year-old dog, he acts like a two-year-old pup!'
Do you have a story to tell? Just get in touch by clicking on the blue box in the top right.