Woofers and tweeters? The very latest doggy technology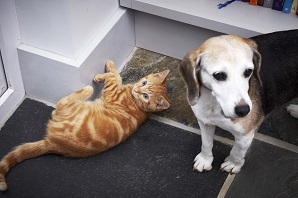 As if the range of technology available to humans these days wasn't mind-boggling enough, now it's time to bring your beloved dog into the 21st century.
Is your pet a bit of a loner or prone to going for long walks on his or her own? Then why not try the new Retrieva tracking collar? Yes, sat nav for dogs. It's the world's most advanced tracking and anti-theft dog collar and has a whole host of features including detailed topographical mapping, and even the ability to follow your pooch's direction and speed of travel.
It works on most smartphones, where you can study the tracker's history and you'll even get a text if the battery's running low or Rover roams into or out of safe areas. Bringing a whole new meaning to the phrase 'tracker dog'. Or should that be 'track-a-dog'?
Look out for Puppy Tweets too. It's a little electronic device that attaches to your dog's collar and transmits tweets about his or her physical activity. The software then interprets your dog's actions, sending updates to a Twitter account via your internet connection! It's available on Amazon or eBay.