Taking a trip with your dog can be loads of fun, but there are times when long journeys can be tricky. We asked owners and experts for their advice on making these trips as stress-free and enjoyable as possible.
---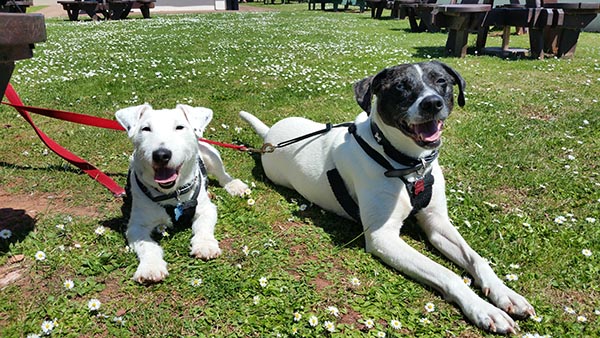 Pictured: Casper and Megan on one of their many trips with their owners, Steve and Tia
An owner's experience:
'Pack more than you need'
Steve Thomas and Tia Taylor have explored Wales, Devon and Cornwall, the Peak District and parts of Scotland with their two rescue dogs, Megan and Casper. 'They both travel very well,' says Steve. 'We have a made-to-measure dog guard to keep them safely in the back of our car, along with privacy blinds to reduce any exposure to the sun.'
Steve's top tips for travelling with a dog is to take pre-measured dog food in plastic containers, so they can be fed at their usual times. 'Always pack more than you need,' he advises. 'This year, we were snowed in for several days and couldn't get out to the shops, but we had plenty of dry dog food so it wasn't a problem.'
There have also been one or two other hairy situations on their trips. On one occasion, Megan chewed through her lead and trotted off to explore. Thankfully, she was found soon after, but Steve and Tia now make sure to take spare leads, collars and ID tags along with their usual supply of extra food, water, treats and towels. Their travels have also resulted in some funny escapades, like the time Casper tried to catch a seagull by launching himself off a harbour wall. 'At least he had a strong harness and lead, and didn't pull me over the edge!' laughs Steve.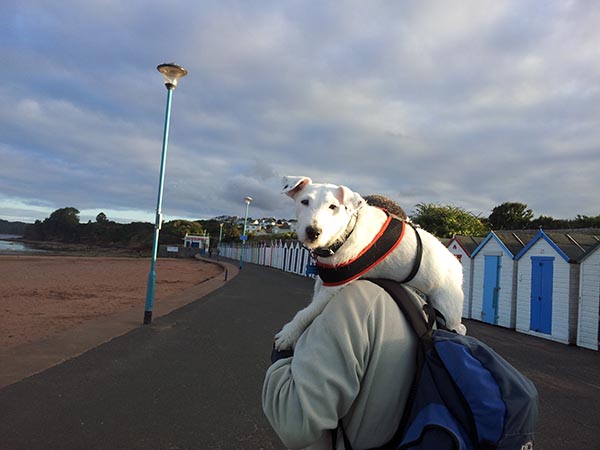 What our experts said:
'Plan ahead'
'Dogs are the best travel companions,' says vet Sarah Springthorpe. 'I regularly take long weekend trips and my dogs, Ellis and Alfie, come too.
'Before we set off, I check with the accommodation to make sure I can take my dogs,' says Sarah. 'And I check out places to go once we're there. For example, there may be sights that my family wants to see, but where dogs aren't allowed.'
On the day of the journey, Sarah takes Ellis and Alfie for a walk and gives them a small breakfast, which she says she's found can help them avoid car sickness and recommends not feeding a big meal two to three hours before travelling. 'I also make sure there's plenty of water for the journey and a comfortable bed,' she says. 'In the car they're either restrained with a harness on the backseat or put in a dog crate. We then stop a few times along the way for toilet breaks and to stretch their legs.'
If the journey involves using public transport, Sarah says that planning ahead is especially important. Changing trains along route may be necessary, for example, to allow for toilet stops. Or, if your dog is nervous in crowds or new situations, using quieter routes or travelling at off-peak times can help.
'Add in exercise'
Animal behaviourist Inga MacKellar took her two cats and four dogs on a five-hour drive when her family moved from East Sussex to Wales a few years ago. Like many dogs, Inga's were used to travelling to different places but she felt it was especially important to make sure they were comfortable on the long journey.
'We didn't want to take all the dogs at the same time because they needed as much space as possible. So I took Meg, our springer spaniel, at the same time as the cats, and my husband came a few days later with the smaller dogs,' she says. 'We factored in plenty of toilet stops, which allowed them to get some exercise.'
Shortly before arriving at their new home, the dogs were walked in a nearby forest to burn off any excess energy. Inga and her husband had already installed dog-proof fencing at the house, so once they arrived, the dogs were supervised while they explored the garden and then headed into the house. 'They settled immediately because the furniture, which had arrived by then, was familiar and they were tired after their forest walk,' says Inga.