Meet caring companion dog Coco, and find out how this sociable Havanese helped his family through tough times.
---
Is a Havanese a good family dog? Just ask Petplan customer Lou McLean and her children. Before bringing home her Havanese pup Coco, Lou never imagined the difference he'd make to family life. 'I don't know whether any other dog would have had the same effect, but Coco seems completely unique!' she says.
Getting a dog wasn't always top of Lou's priorities as a single mum to four children with complex care needs, Ali, Oscar, Nairne and Nessie. Over the course of their lives, the children had all been diagnosed with serious health problems, with her son Oscar requiring the first of a series of heart operations at just three days old. Eventually, their various health issues were all linked to one rare underlying genetic condition.
With the children's state of health fluctuating, and Oscar, in particular, needing constant care, times were difficult for Lou – especially when she herself was diagnosed with the autoimmune disease lupus. Then, one day, the benefits of having a dog were mentioned to her. 'Oscar had been largely bedridden for years because of endocarditis,' says Lou. 'He was so fatigued that he barely had the strength to sit up in bed. He couldn't really interact with many people, but someone suggested getting a puppy.'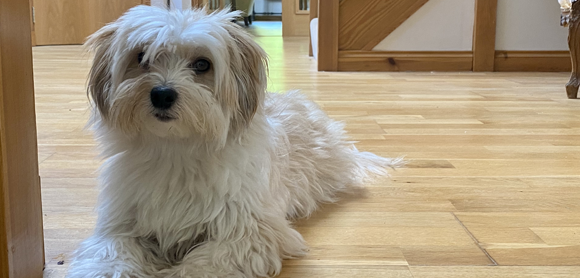 Finding the right family-friendly dog
The whole family were keen, and Lou began looking into child-friendly dog breeds. 'I read that Havanese were wonderful companion dogs, didn't need huge amounts of exercise, and were often happy just to curl up and be with you,' she says.
That was when the family decided to get Coco from a Havanese breeder. 'We initially chose him from the litter because he looked like he was wearing socks,' says Lou. 'He was tiny, and so cute!'
When Coco was old enough to come home, they returned to collect him, and were surprised by how big he seemed in comparison to the other puppies. 'Then we noticed how he distracted the other puppies to steal their food,' explains Lou. 'We knew we had a character on our hands!'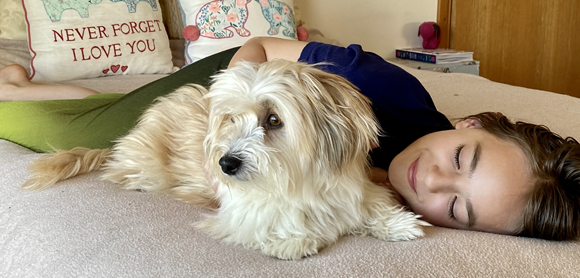 Life with a new dog
Introducing dogs to children can take time, but from the first day, Coco lit up the family's house. 'He just plonked himself down and was happy,' says Lou. 'I knew from then that he would make a big difference. He spends a lot of time with Oscar, keeping him company. Now, Oscar wants to struggle out of bed to see Coco, and watch him play.'
Unfortunately, Coco's own health hit a bump a few months later, when the family realised he wasn't walking properly. Lou took him to the vet and was given the devastating news that the young pup needed a hip replacement. When Lou told Coco's breeder, she was as shocked as they were, and offered to take him back. Lou immediately refused, however. 'He was part of the family,' she says. 'We would never give up on him.'
Coco was seen at Fitzpatrick Referrals, and had a full hip replacement, which was a complete success. 'Now, when I see Coco running around, I think, "hats off to the vet!" If it wasn't for her, we wouldn't have the character we have today,' says Lou.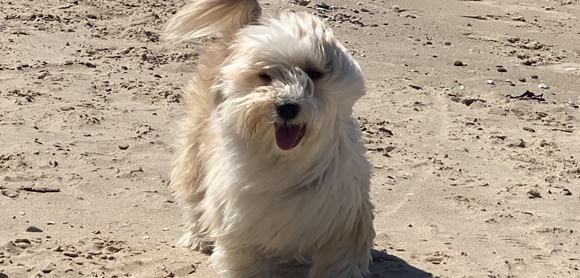 Canine companionship
In many ways, Coco demonstrates typical Havanese traits: he's sociable, adaptable and good with kids. 'Coco is such a caring dog,' Lou continues. 'He's a wonderful, empathetic companion – when my son or daughter are in their wheelchairs, he'll nestle into their laps for a cuddle. But he's also incredibly cheeky and fun. If I go to the fridge, he'll try to grab treats while the door is open!'
Like other Havanese dogs, Coco is also a bit of a show-off when it comes to tricks. 'If we go for a walk and he sees someone coming, he'll walk on his back legs, because he knows they'll make a fuss of him,' smiles Lou.
Although Coco is not a trained assistance dog, he has also been a tremendous help to the family. 'He seems to have the ability to alter his behaviour for each person,' Lou explains. 'He's calm and quiet with Oscar, but playful with my daughters, who are usually more able to interact physically with him – yet he calms down if they need rest. And if any of the children are ever hurt or ill and need me, he comes to fetch me straight away.'
The heart of the family
When the pandemic hit, Coco's company was more of a blessing than ever. 'Throughout lockdown – when we stayed at home, had everything delivered and didn't see another soul – he was the heart of our family,' says Lou. 'There was a field adjoining our house where no one else would be, so we could walk Coco and he would run and bounce around. To be on your own with four children in that situation was terrifying, yet Coco was with me every moment.'
'He's the happiest, most loved dog in the world,' she adds. 'He gets cuddled all the time, and I think he thrives on being a companion dog.'
The family recently moved to the Scottish Highlands, where Coco has easy access to the seaside walks he loves. 'Running on the beach is Coco's favourite thing,' says Lou. 'He goes absolutely nuts!'
Coco has now been with the family for five years. 'I didn't know whether I could take on a puppy with everything else I was dealing with,' Lou recalls. 'But it was the best decision I've ever made. He came into a deeply needy situation, and it was a lot for a tiny puppy – but he was wonderful, and I think he needs us, too.'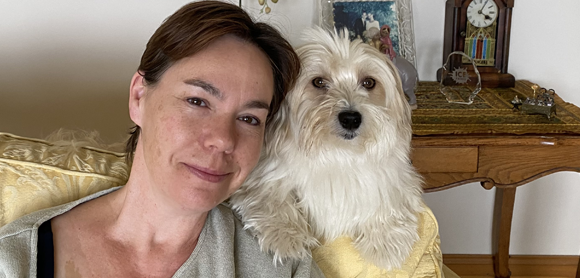 Have you adopted a rescued cat or dog? Share your experiences with us on social media using the tag #PethoodStories