Fostering is an incredibly rewarding experience and a fantastic opportunity to give pets in need some extra love and attention from your own home, without the long term commitment of owning a pet. It also provides invaluable support to animal rescue centres and the pets in their care. Whether you're an experienced owner or have never been able to own a pet of your own, why not find out more?
---
What you need to know
With many rescue centres working at full capacity, they are reliant on pet lovers to help provide temporary care for rescued pets, prior to their adoption. Some pets require foster care for medical reasons, while others just don't cope very well in a rescue centre environment. Fostering is crucial as it provides these animals a safe, one-to-one setting in which to flourish whilst they wait to find their forever home. It can also help shy or nervous pets to build up their confidence and become more used to a normal lifestyle.
As a fosterer you would take on the responsibility for the pets in your care and must be willing to provide the basics of daily care, such as feeding, exercising, cleaning, socialising, playing and grooming.
However, you're not on your own! Most rehoming centres will offer a huge amount of support for their fosterers, including training and guidance, as well as providing equipment and veterinary care.
How to foster a pet
If fostering a pet sounds like something you would like to do, get in touch with your local rehoming centre to find out more. To become a foster carer you will usually need to submit an application and chat with the centre to determine the pet that would be most suitable for you.
Whilst extremely rewarding to see a foster pet blossom and go on to be successfully rehomed, the process can also be challenging and requires a lot of time, so this is something you must consider and be prepared for. The length of time you have your foster pet will vary depending on their situation. It could just be for a week or two, or several months, and in this time you may become attached and want to keep them. However this is not always possible and again, must be carefully thought through before committing to the process.
If you're not quite ready to welcome a temporary foster pet into your home, but would still like to help, why not sponsor a pet, make a donation, fundraise or volunteer some time instead?
Find out more from our charity partners
Most charities are on the lookout for potential foster carers, so take a look at some of our partner's websites to find out more about how you could help.
Search for a local re-homing centre
Foster pet success stories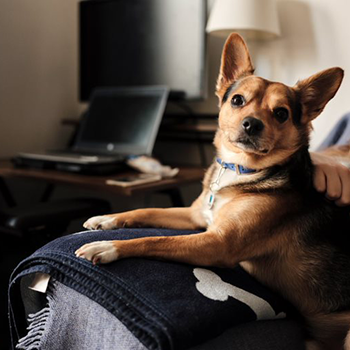 Bailey
Bailey found kennels a very worrying place to be and shrank into his shell, especially around other dogs. Coupled with having a host of medical conditions it was best for Bailey to go on foster.
Fostering provided Bailey with just the right home environment to build up his confidence and make improvements to his health. With time and dedication, Bailey transformed into a more sociable dog and with his health conditions under control, he was ready for a new home.
Bailey is now thriving and is very loved. He is unrecognisable as the scared, unwell dog he was when he began his foster journey.
Clementine Budge, Battersea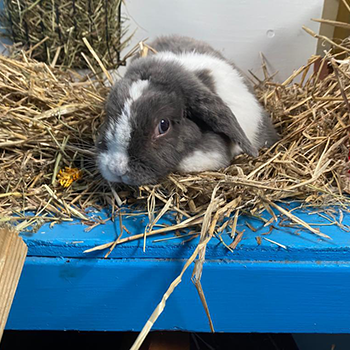 Birdie
I've had both ends of the foster experience as sometimes it's a very happy, easy short term thing and you have just as much fun as the rabbit does, but the reality is that sometimes it can be a very difficult thing to do and you do it all for the benefit of the animal's welfare and not necessarily your own. This was the case with Birdie, who came to me on foster for end of life care.
Wherever your story falls on this scale, fostering is an invaluable kindness that people show to animals and no matter what way the journey takes, the outcome is a positive one for that animal's quality of life, happiness and care.
Josie Hantonne, NAWT