Animal Rescue Live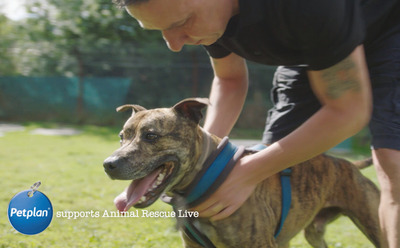 Animal Rescue Live is returning to our screens on the 12th of August. Each year, approximately 250,000 pets are placed in rescue shelters and the brilliant staff do everything they can for these animals in need. However, both the staff and animals still need us to support them in the remarkable work they do.
Across five nights, Professor Noel Fitzpatrick, Steve Jones, and Kate Quilton will be joined by some of your favourite famous faces, all coming together with the goal of raising awareness and giving thousands of pets another chance at happiness.
Sponsored by Petplan, this year's Animal Rescue Live will be broadcast live from Raystede Centre for Animal Welfare near Lewes in East Sussex, and is a national campaign and rescue organisations the length and breadth of the country are taking part.. The series is asking for the nation to come together and support this worthy cause. Viewers at home can easily get involved by donating via text message, volunteering at a local animal rehoming centre, or even adopting a rescue animal yourself.
The ambition of the Animal Rescue Live show and campaign is to educate people about rescue pets and encourage more people to think about adopting a pet from a home, rather than buying.
Of course, deciding to rescue a pet of your own is a big decision. It can be daunting, and you may be anxious about how the process works or whether your house and family would be suitable for an animal. However, adopting a pet who no longer has, or in some cases never had, a loving home is also an incredibly rewarding experience. Rescue animals already have stories and life experiences, with unique personalities that reflect this. They can make some of the most loving pets and irreplaceable additions to the family.
Petplan want to help make the process of rehoming less intimidating, so that you too can share in the joy of adopting a pet and help make a difference.
To start, you can find plenty of information about rehoming animals on our rehoming page, answering questions about the process, how to prepare your house for a rehomed pet and even which breeds might suit your lifestyle best.
Furthermore, Petplan will be answering the questions of Animal Rescue Live viewers on X. Using the hashtag #AskAnimalRescue. You can get involved with the campaign and tweet any of your queries to us throughout the programme. We will be responding with advice and guidance from animal experts.
If you decide that adopting an animal is something you want to and can do, Petplan have also created a hub that allows you to easily find animals in your local area in need of a new home. By coming together as a nation, around this cause, we can fix the problem and give animals the happy homes they deserve.
If you have any questions about Animal Rescue Live, or any queries regarding rescuing a pet, let us know in the comments below.