Breed profile: the Irish Wolfhound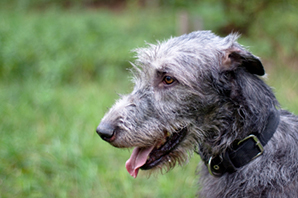 From the wide range of dog, cat and rabbits we insure, we pick a Petplan 'Breed of the Week' to star on our Facebook page. This week, it's the turn of the Irish Wolfhound. Here's all you need to know about this giant of the dog world...
Standing at around a yard (about 91cm), the Irish Wolfhound is the tallest of all dog breeds and roughly the height of a small pony. A member of the hound group of dogs, it was originally bred – as its name suggests – to hunt wolves (as well as Irish elk and boar).
HISTORY
With written records of the Wolfhound dating back to 391AD, this is a very old breed. In Irish mythology, Wolfhounds were famed for their valour and ferocity. They were used as war dogs to attack the enemy by dragging men out of chariots or off their horses.
The Wolfhound also gained kudos as a nobleman's dog with stories of hounds being gifted to princes and kings such as Llewelyn, the last King of Wales, the Great Mogul of India and the Shah of Persia. But in the mid-1600s, annoyed that so many of the breed were being sent abroad (and because wolves were still a problem in Britain), Oliver Cromwell banned its export.
In the late 1800s, after its popularity had waned, a British Army Officer called Captain George Graham revived the Wolfhound by breeding the last remaining dogs of the breed with others such as the Deerhound and the Great Dane. Following this, the breed enjoyed a renaissance and began to be shown in the late 1870s.
FEATURES
Wolfhounds have athletic, muscular bodies and are very powerful. Their legs are long and strong – but the breed combines strength with grace and elegance. With rough coats on the body, legs and head, the Wolfhound's hair is medium-length. The breed comes in a range of colours, and purebred recognised colours are grey, brindle, red, black, pure white, fawn, wheaten and steel grey.
The Wolfhound has a large, long head; its muzzle is long and pointed and the jaw is strong with a scissor bite. Its nose and lips are black; Wolfhounds also have dark eyes and black eyelids.
TEMPERAMENT
The Irish Wolfhound is a calm, friendly and very loyal dog that is eager to please. Though a great family pet, its size can make it tricky to play with and Wolfhounds are prone to clumsiness. A small living space isn't advisable and Wolfhounds like company rather than being left alone. Two hours of daily exercise are needed for adult hounds. These are not dogs to be taken on lightly, but the rewards of thoughtful ownership are great.
Visit our Facebook page to see our 'Breed of the Week' and click here to see our TV advert, which stars a host of wonderful dogs, cats and rabbit breeds.