Dog Christmas Dinner Recipes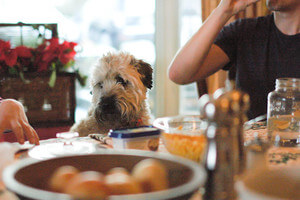 Dog Christmas Dinner Recipes
There's nothing like sitting down to enjoy a full Christmas dinner with all the trimmings – and we're not the only ones who look forward to this food-filled holiday tradition.
For every plate piled, dog parents will know that their furry friends can't resist the fare. However, because they have different diets to ours, it's the responsible thing to make sure your pet has a good Christmas with their own mini feast of delicacies.
We take a look at some of the best dog Christmas dinner recipes to give your pooch throughout the festive season…
Tempting Christmas treats
Let's face it: Christmas is a time of wonderful treats that you simply should not resist! And the same goes for your dog.
Just because chocolate is off their menu doesn't mean they can't still chow down on tasty snacks during the festivities. In fact, different types of treats have evolved over the years to meet the needs of pet owners catering for their furry friends at Christmas.
Nowadays, the most popular Christmas treats for dogs include:
Something else worth bearing in mind: only choose treats that are appropriate for your dog's size and chew strength to avoid choking hazards.
Natural meal options
If your dog has a sensitive stomach, you must make sure they don't eat anything that'll upset their tummy over the holiday season. To keep your dog's digestion moving as it should, consider providing grain-free items for their Christmas dinner. The festive offering from Lily's Kitchen at Pets At Home is an excellent starting point, with products like their three-bird roast containing turkey, goose, duck and lots of vegetables.
For poultry-free diets
If you're after a dog Christmas dinner recipe that's full of flavour and a delicious holiday meal, as well as being free from festive poultry, there are lots of exciting things you can do with red meats, such as steak, lamb, and pork. For instance, this beef-based dish is quick to prepare and will almost certainly put a smile on your dog's face.
Ingredients include:
1 lb. Low-fat ground beef
1 large diced potato
2 Tbsp. coconut oil
½ cup frozen peas
1 diced carrot
First, cook the meat through in a large pan or skillet. Then stir in the coconut oil. Add the carrots and potatoes followed by enough water to cover the veggies. Bring to a boil then simmer for around 20 minutes. Finally, add the peas and stir.
Make sure you allow plenty of cooling time before serving your dog an appropriate portion.
What about alcohol?
Under no circumstances should you let your dog drink alcohol – not even at Christmas. Giving it to them often results in ethanol toxicosis, which can damage your dog's central nervous system and cells.
If you want your dog to have the complete Christmas experience, we highly recommend buying them some Pawsecco. It's alcohol-free and packed with nutrients to keep your pooch happy and energised, earning a solid place among top 10 Christmas presents for dogs!
The full works
A human Christmas dinner is made up of many elements, all of which bring something unique that we enjoy. Your dog's festive feast should be the same. Thankfully, there are lots of foodstuffs we eat that are also suitable for our canine companions, including:
Meats: Plain, unseasoned, boneless pieces of meat are all fine for your dog's portion.
Fish: Serve raw, cooked or from a tin, but avoid smoked products because of bacteria risks – and just like meat, avoid seasoning.
Vegetables: Dogs can stomach almost any winter vegetables, but don't give them scraps because the oil and condiments contained within them often cause digestive problems later on.
There are some nutritional groups you need to be cautious around, which include:
Fats: These are fine in moderation, but it's best to avoid foods with high-fat content altogether – including bits of sausages, bacon, poultry skin, and gravy; instead, give red meat or turkey breast.
Fruits: Real chunks of various fruits that are seedless and pitted to avoid accidents are preferred, with strawberries and fresh apples both being go-to choices. Do not give syrups or juices, and steer clear of raisins, as these are extremely harmful to dogs.
Dairy: Because most dogs are lactose intolerant, you'll want to omit any items high in this from their Christmas dinner. Popular dairy products dogs can enjoy include ricotta cheese and plain yoghurt, owing to their sparse lactose content.
We can all agree that every dog is on Santa's nice list this year, so give them a Christmas dinner that shows just how great the festive season is with them in your life. Although please consult your vet before feeding any of the above to any dogs with health issues.
And for dessert…
While dogs should avoid human mince pies at all costs, they can certainly be given a canine-friendly version of this classic Christmas sweet.
First, make your own pastry with a mix of 200g plain flour, 100ml oil and a beaten egg. Mix the flour and oil together, then slowly add the beaten egg, kneading until it forms a dough. Next, roll the dough flat on a floured surface and cut out shapes to mould into a greased muffin tray. Remember to cut enough lids from the dough to fit on top of each mince pie at the end.
Once your pastry is ready and cut out in whatever shape best appeals to your dog, add a spoonful of beef or chicken mince into the pastry case until it's about 2/3rds full.
Next, rub milk around the edge of the pastry case and press the lid on top, checking that it's down all the way around and sealed safely. Brush some milk over the pastry lids for a lovely golden shine once baked. Pre-heat your oven to around 200 Celsius and bake for approximately 30 minutes. You should have enough dough mix for eight dog-friendly mince pies, which can be stored in the fridge for up to four days.
However, if you're pushed for time but still want to make their mealtime special, these decorated hand-baked mince pies from Pets At Home are also a guaranteed hit during Christmas.
As well as making sure they're fed properly this Christmas, it's vital you have the right insurance to help your pooch access the best care possible. Discover Petplan's comprehensive dog insurance to see which policy is right for your pet.
Do you have any other recommendations when it comes to Christmas meals for dogs? Let us know in the comments below…
Related Articles