The trees are going up, the presents are being wrapped, the food preparations are beginning, and the excitement is escalating – Christmas is just around the corner!
---
The festive season provides many exciting opportunities for our furry friends too – such as decorations to play with and wrapping paper to hide in. But tempting treats can also be problematic. Here are 12 tips to help Christmas with your pets go smoothly.
1. A busy house
Christmas time often means a busy home, with friends and family coming together in seasonal spirit. Remember that new faces and more noise can be scary for your pet, so it's a good idea to provide them with a safe room so they can escape and be put at ease if it all becomes too much.
It's also important to maintain your pet's normal routines to avoid them becoming too unsettled. Overfeeding your pets is most likely to happen when the weather is cold, as you may be going on shorter walks and less frequently. Sticking to your pet's exercise routine can help avoid unhealthy weight gain and calm your pet, which may lead to less disruptions when they are back at home among all the excitement!
2. Tempting treats
The smell of succulent turkey wafting from the kitchen is as irresistible to our pets as it is to us. Avoid leaving food anywhere within your pet's reach – you can't blame them if it's left unattended! But it's not just about protecting your Christmas dinner. Many foods we love can make pets unwell. Chocolate, onions, nuts, blue cheese, fruit cakes, puddings and mince pies can all be toxic to dogs and cats. Turkey bones can also be harmful as they can become lodged in the throat, splinter causing damage to the mouth, or block and perforate the intestines.
Buying treats made specifically for pets means you can still give your pet a treat this winter, while eliminating the risk of causing stomach problems. You could also try baking homemade treats for your dog, cat or rabbits.
3. Christmas trees
Having a fir or pine tree in the house is one of the wonders of the festive season. But it's worth bearing in mind that although they look lovely, they can be troublesome for pets. The oils in fir trees can be mildly toxic, causing stomach upsets, and the needles themselves can get stuck in your pet's paw or throat. Regularly sweep up needles and close the door of the tree room when you go out, to avoid any accidents.
Also, be aware that some artificial trees will have small pieces and decorations that can break off and cause intestinal blockage if ingested by your pet. Ensure any tree you buy is sturdy and fixed firmly to the floor or out of reach on a table.
4. Strings of lights
Fairy lights that dangle and adorn are tempting chew items for pets. Try to place them out of reach, and always turn the lights off when leaving your pet unattended.
Pets often have a fascination with bright lights and flashes due to their innate predatory behaviour. However, a bit of harmless excitement can actually lead to your pet's behaviour becoming erratic. If you see this and it continues, it would be wise to keep the lights out of close contact with your pet.
5. Wrapping distractions
Keep the door shut when you are wrapping presents – otherwise you might see your rabbit hopping away with that ribbon you have just spent time curling. Or the bow you are just about to stick on that present may suddenly be stalked by your cat in a game of pounce. If swallowed, these items can cause many more problems than just a wrapping headache.
6. Dangling decorations
Baubles, tinsel and dazzling decorations hanging from the branches provide irresistible play opportunities for your pet. Be careful, as not only can your carefully decorated branches suddenly become bare, but tree decorations can be dangerous. Chocolate is harmful to pets, so hang those yummy decorations out of reach. Anything knocked off the tree can be swallowed by our inquisitive friends, and broken ornaments can get stuck in a paw.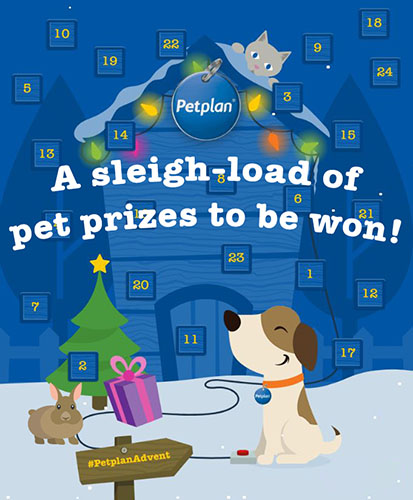 Don't miss our Petplan advent calendar
See what treats are behind each door every day from 1st December until Christmas.
7. Pretty plants
Poinsettias, mistletoe, cyclamen and holly are Christmas favourites, bringing lots of festive cheer and colour into the home. However, they are dangerous for pets, with varying levels of toxicity. The side effects depend on how much of the plant is consumed. Display out of reach to avoid any tummy troubles.
8. Antifreeze
With the onset of winter comes the inevitable frosts and ice, and for our four-legged friends, the smell of antifreeze is extremely alluring. But it is hugely toxic and can be fatal, so be careful not to spill any on the ground, and keep bottles out of reach – even the smallest amount can be dangerous.
9. Ornaments
'Tis the season to decorate your home with special Christmas ornaments. But remember, if your cat, dog or rabbit isn't used to its usual play spaces being filled with festive objects, they can be knocked over, nibbled or even swallowed.
10. Home comforts
As the snowflakes fall and the temperature drops, make sure that your cat, dog or rabbit has somewhere warm to sleep. Preparing your rabbit for winter is important. If your rabbit sleeps outdoors, make sure the hutch is waterproof, and be ready to bring him or her inside over the winter months too. And for your cat or dog, ensure they have somewhere warm and comfortable to come back to after they've been exploring in the elements.
11. Fire safety
A crackling fire is loved by many on a winter's day. But be careful if you have an open fireplace – your pet may not be used to it and may try to investigate too closely. Place any festive candles out of reach too, to avoid accidents.
12. Holiday blues
The festive season can be a chance to escape away on a well-earned holiday. But if you do go away, don't leave your pet for too long – our furry friends deserve the love and a share of the festive fun as much as we do. Spend time with them this winter. It is the perfect opportunity to crack open the pet games you've had for months.
By following our Christmas tips, you can make the most of the wonderful festive season with your furry friends and avoid any potential problems.