Flex your creative skills and share the Christmas cheer with your furry friends this year. We explain how to make three nutritious and delicious homemade bunny treats, perfect for the festive season.
---
As Christmas approaches, why not involve your rabbits in the season's fun? Homemade treats and presents are the perfect way to spread the festive spirit! Here are three easy-to-make festive suggestions, just right for your rabbit.
Hanging biscuit decorations
These festive biscuits are delicious for your bunnies, but they are high-calorie, so should only be given as a treat.
You will need:
Half a carrot
Half a courgette
Half a banana
Handful of pellets
Handful of rolled oats
Sisal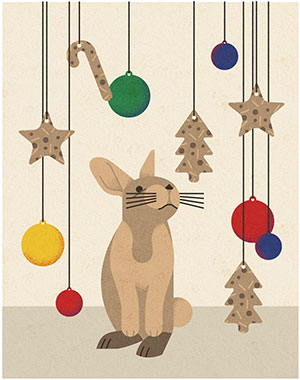 Step-by-step instructions:
Finely grate the carrot and courgette, chop up the banana, crush the pellets, and mix them all together with the oats.
Roll out the mix with a rolling pin until it's only a millimetre or two thick.
Cut out Christmas shapes with biscuit cutters. Poke a hole into the top of each biscuit – don't forget this step if you want to hang them up
Bake the biscuits on a low oven heat (around 120-150ºC) for a couple of hours or until they are completely dry. Remove them from the oven and allow them to cool.
Use sisal to hang the treats in your bunnies' hutch for them to eat.
Bunny crackers
Crackers are a quick, simple toy to occupy your bunnies and make sure they eat their greens. Your rabbits will love rolling the crackers around and poking out every last bit of goodness to eat.
As well as meeting their basic nutritional requirements, nibbling hay keeps bunnies busy, while chewing strengthens their teeth and jaws, keeping their gut healthy, too. Giving a variety of greens every day mimics the many different plants that rabbits graze on in the wild.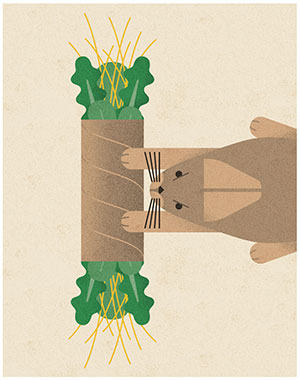 You will need:
Toilet roll tube
Handfuls of fresh hay
Spinach
Brussels sprout tops
Handful of rolled oats
Kale
Step-by-step instructions:
Stuff a toilet roll tube with a few mixed handfuls of fresh hay and leafy greens, such as spinach, Brussels sprout tops or kale.
Make sure the hay and greens are poking out of the ends of the toilet roll, fluff them out and, hey presto, you have a bunny cracker!
2022 Veterinary Awards: don't miss your chance to nominate!
It's never been so important to show vets our appreciation for all their hard work, so tell us about your own inspiring animal hero...
Mini Christmas tree
With yours out of bounds, give your bunnies their own Christmas tree made of twigs of apple wood or willow (willow twigs can be found in pet stores). Decorate it with 'baubles' made from chunks of apple or orange (not the peel) and small berries like blueberries.
Once they have eaten the fruit on the tree, your rabbits can enjoy hours of fun nibbling away at the twigs, keeping their teeth in good health.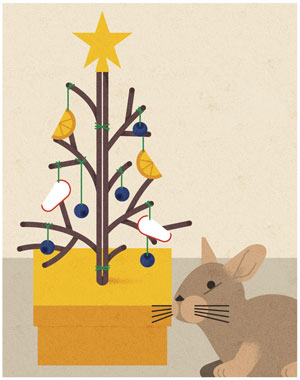 You will need:
Apple wood or willow twigs
String
A shoebox
Apple or orange chunks
Berries
Step-by-step instructions:
Bind the twigs together with string, using one stick as a 'trunk'
Stick the 'trunk' of your tree through a hole in a shoebox to keep it steady.
Thread the fruits onto the tree for your rabbits to find and enjoy
Have a happy and safe Christmas
The festive season is an ideal period to spend time with your bunnies and lavish them with some well-deserved treats and attention. Don't forget, however, that rabbits primarily need long fibre – such as hay and straw – in their diets. So, if you give your bunnies any of the treats outlined above, it's best to make sure they constitute no more than 5% of your pets' daily calorie intake.
To keep the holidays fun and trouble-free, remember to keep plants out of their reach – some can be toxic to rabbits. Also, if you have house rabbits, be sure to supervise them around the Christmas tree, as well as wrappings and ribbons, low-lying human snacks and candles, or open fires. These can all be hazardous to pets.
Finally, although you might want to keep some rabbit-friendly morsels aside while you're preparing your Christmas dinner, only feed them to your pets in moderation. We might commonly think of rabbits as liking to munch on carrots, but root vegetables such as these have a high sugar content. Along with pieces of fruit, they should only be given as an occasional treat.
Do you make your own festive rabbit treats? Share your recipes with us on social media, using the tag #PethoodStories