Keeping your pet safe this Christmas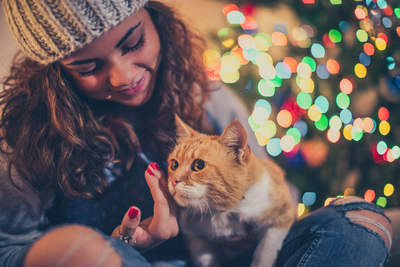 'Tis the season, and Christmas is well and truly here. You've no doubt already decorated your house to your exact specifications, but have you thought about your pets? Whilst everyone loves setting up the house with tinsel and candles, it's easy to get carried away and forget that there are a few things in your home that may not be perfect for your pets. Petplan takes a look at how to have a pet safe Christmas in your home this year.
1. Christmas Trees
Christmas trees are a big one on this list, even if your tree isn't the biggest this year. Whilst the tree is often the centrepiece of the home over the festive season, don't forget that the oils of real fir trees can be toxic and cause upset stomachs in your pets.
Additionally, be sure to sweep up any loose needles, as these can become stuck in the paws or throats of your pets.
Whilst plastic trees aren't everybody's favourite, they can help to cut down on some the maintenance required, although these can still prove to be a choking hazard. Alternatively, make sure you close the door to whichever room the tree is in, whenever you're out or not using that room.
2. Decorations
Decorations also pose a few potential risks to your pets. For example, fairy lights dangling from the bannister or the mantelpiece can be a tempting distraction for some pets. Make sure that these are switched off when you're not there and that any wires are secured in a way that your pet won't be able to chew through them.
The same goes for anything else that dangles. Baubles, lights and tinsel, are all fantastic looking but they may prove too tempting for your pet, causing them to jump up or tug at them which can cause all sorts of Christmas calamities. One way to limit the attraction is to make sure these decorations are either hung high or kept away from pets altogether. A smashed bauble can go from annoying, to dangerous, in a very short space of time.
3. Consumables
Food, chocolate, plants, chemicals. All of these represent potential dangers but if you're smart you can avoid any potential mishaps.
For starters, there is more than likely going to be a lot of extra sugar/chocolate/junk food lying around the house and we all know that this is bad for our pets, or even toxic. Keep these away from anywhere they might be able to reach, preferably stored in a high cupboard and not left lying about the house.
Christmas is also an important time to remember that our pets digest foods in a completely different way to us. Leftover scraps might seem a harmless enough treat but always keep track of what they're being fed. It's easy to overfeed them which can have serious health risks. Alcohol content is also something to watch out for, try not to spill any and you definitely don't want to give them any Christmas pudding.
Certain seasonal plants, such as poinsettias, holly, and mistletoe can also be toxic for your pets, so be sure to keep them out of the way or use a plastic substitute.
This last one isn't so much of a Christmas tip, but a winter tip. As winter sets in, it's more than likely you'll have a few frozen doors or windows. Make sure any antifreeze is stored properly when not in use and the same goes for cleaning products after that big family party, as these can be extremely harmful to pets.
4. People Problems
Just like anything else, people can also cause a few problems for pets over the holidays. If you're going away, make sure you aren't gone for too long, pets deserve to revel in the holiday season just as much as we do. Make sure you spend time with them this winter but also be mindful of their moods.
Similarly, to how pets don't like being left alone, it's also important to make sure that things aren't too busy for them. If the Christmas party is being held at your house this year, then remember that unfamiliar faces and new/loud sounds can make your pet anxious and even aggressive.
In cases like these it's a good idea to prepare a safe room for them, somewhere with a few creature comforts that they can retreat to if they're feeling tired, scared or overstimulated.
It's also important to ensure your pet sticks to a routine as much as possible. Of course, this can be hard over Christmas but don't forget that they still need their regular sleep, food, and exercise.
Christmas is a time for celebration and pets should be able to enjoy the festive season as part of the family and by following these golden rules you can ensure that you and your pets have a healthy, happy, holiday season. Are there any special precautions you take with your pets at Christmas? Let us know in the comments below.