Rabbit health: a guide to fly strike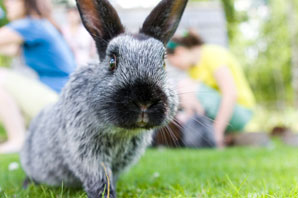 With any luck we will enjoy some sunshine this summer. But while we might love those warm lazy days, they do bring problems: flies. Kath Stathers looks at the danger of fly strike in rabbits.
WHAT IS FLY STRIKE?
Fly strike – or myiasis to give it its scientific name – is a problem that can afflict rabbits in hot weather and even be fatal. Flies that are attracted by the smell of urine, faeces or scent glands lay their eggs around the rear end of a rabbit. These eggs then hatch releasing maggots that eat their way into the rabbit's flesh. The maggots release toxins that can cause seizures, listlessness and a state of shock that can be fatal to the rabbit. (Vet Brian Faulkner explains fly strike in this video).
HOW DO YOU KNOW IF YOUR RABBIT HAS FLY STRIKE?
In hot weather you need to check your rabbit's hindquarters twice a day. If at any point you see eggs or maggots, see your vet immediately. If your rabbit has a seizure or seems listless, check them for maggots. Even if you can't see any, contact your vet as they could have burrowed into the anal passage and out of sight.
ARE SOME RABBITS MORE SUSCEPTIBLE THAN OTHERS?
Any rabbit – healthy or otherwise – can be a victim of fly strike, however those with a wet or dirty groin area are most at risk. There are certain conditions that might make it difficult for a rabbit to clean itself, such as obesity, large skin folds, long hair, arthritis, tooth problems or urinary issues and you should take special care to clean those rabbits' nether regions at least twice a day. It's also worth being extra vigilant if your rabbit has a wound, as flies are attracted to open flesh.
WHAT IS THE TREATMENT?
The vet will probably sedate your rabbit then set about removing the maggots with tweezers. He or she might administer a treatment for the shock or toxins and possibly antibiotics to prevent any further infection. The most crucial thing is to get treatment fast.
TIPS FOR PREVENTING FLY STRIKE:
1. Check on your pet twice a day and make sure that its rear end is clean and dry.
2. Keep your rabbit's hutch clean and dry. Remove soiled bedding every day and disinfect the hutch once a week.
3. Make sure you don't overfeed your rabbit as this can lead to diarrhoea that will stick to the fur and attract flies. For the same reason, don't let your rabbit binge on fresh grass too often.
4. If you think your pet might be particularly at risk, you could cut the fur around its rear end, but don't shave it as a rabbit's skin is very delicate.
5. If your rabbit does have faeces stuck on its fur, use a spot cleanser to clean it as you want to avoid getting your rabbit's bottom wet as much as possible. There are also products that you can apply to your rabbit's fur that prevent fly eggs from developing into maggots. (Talk to your vet before using any treatments to check that they are suitable.)
6. Take measures to keep flies away from your pet's living quarters. You could install fly screens, hang up sticky fly paper or even place plants nearby that are known to repel flies such as lavender, pennyroyal or nigella – make sure these are out of reach of bunny's teeth, however.