Seven new ways to exercise your dog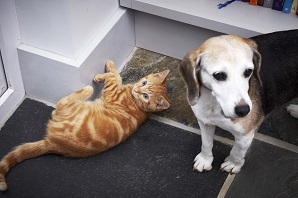 Dog owners: fancy a change from a circuit of the park? Try one of these!
1) Go the distance with CaniX
CaniX is canine cross-country running for people of all ages and fitness levels. Over 1,500 teams competed in CaniX UK events last year and the sport looks set to run and run. Humans over 10 years and dogs over one year can all join in and there are graded trails for different abilities. You can enter a 21km distance event if you and your dog are fit enough – but there are also gentler 2.5km trails.
www.canix.co.uk
2) Become a musher
If you are the owner of a sled-dog breed, the best way to harness their natural pulling power is by getting involved in organised breed activities. Siberian Huskies, Greenland Dogs, Alaskan Malamutes and Samoyeds can all take part in racing or trekking events. You don't need snow, but you will require specialised equipment and dogs that are well trained for the sport.
www.absasleddogracing.org.uk
3) Have a go at Fly ball
Fly ball is a fast-paced, action-packed sport which is thrilling for participants and spectators alike. A team of dogs competes in a relay race across hurdles and has to retrieve a tennis ball thrown from a spring-loaded box before returning to the start. Border Collies and working sheepdogs do particularly well, but dogs of any breed or size can join in so long as they are fit and sociable.
www.flyball.org.uk
4) Walkies goes large
Most of us usually enjoy taking our dog for a walk, but sometimes it can be hard to find the proper motivation to stick to a regular routine. So, why not start a dog-walking group? It doesn't have to be anything formal, just ask a few fellow dog walkers to join you once or twice a week. Plan some new routes, try some new games, and learn some new tricks. The dogs will absolutely love playing with a regular circle of friends. Why not arrange your own group?
Community classifieds website www.gumtree.co.uk can be a good place to start
5) A day at the races
Just-for-fun Afghan Hound races take place all over the country (details are available from the Afghan Hound Association www.ahaonline.co.uk) while many Whippet clubs in Britain also hold regular events (check out www.thewhippetclub.com). Terrier races are held at many country shows and games fairs, and are usually open to anyone.
6) Strictly come doggy dancing
Do you have a flair for the foxtrot or an itch for the cha cha cha? Why not teach your dog to give a twirl? Heelwork to music - or canine freestyle as it's also known - is a competitive sport that combines the skills of obedience training with a touch of grace and rhythm. This fun approach to serious training will keep both you and your dog on your toes, and it's very entertaining to watch.
www.caninefreestylegb.com

7) Doggy assault course
About a third of people who visit woods are dog walkers, so the Forestry Commission has launched a Walkies in the Woods campaign to promote responsible dog ownership and make their woodlands as dog-friendly as possible. The latest innovation is a trail designed by canine agility experts, which has been built at Coatham Wood, near Long Newton, Teesside. The one-mile trail has pipes, tunnels, posts, beams, steps and hurdles and is a fantastic way for you and your dog to keep active.
www.forestry.gov.uk