A Guide To Pet Passport | Stories From The Surgery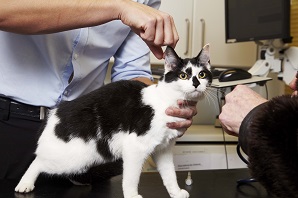 Each month Petplan vet Brian Faulkner takes a look at some of the issues he comes across in his day-to-day life as a practising vet.
This month Brian takes a look at how to successfully obtain travel documentation when taking your cat or dog abroad…
Regardless of the time of year, one thing I am frequently asked about is taking a pet abroad.
There have been some changes to the process of taking your pet abroad in recent years, meaning that holidays with your pet are now easier than ever.
Gone are the days of lengthy and stressful (for both you and your four-legged companion) quarantine – but in order to travel freely in and out of the UK your pet will need to have travel documentation.
Here are some of the things you need to consider both before and during a foreign holiday with your pet…
How to ensure your travel documentation application is successful
- Your cat or dog needs to be microchipped - which is the the very first stage of acquiring travel documentation. In fact it will be law in the UK from April 2016 that all dogs have to be microchipped. This is for identification purposes, in case your pet gets lost, and to guard against fraud.
- Your pet has to be vaccinated against rabies. The UK is rabies-free and therefore vaccination against rabies is vital to prevent re-introducing the disease. The vaccination should take place more than 21 days before travelling. Different brands of vaccine last for different lengths of time.
- Once your pet has been microchipped and vaccinated against rabies you will be able to apply for travel documentation from your vet. Your vet will fill it out, and it will be valid for as long as your pet meets the UK entry requirements. However, it's important to note not all vets can issue travel documentation so check with your local vet or alternatively contact the Animal and Plant Health Agency for further information about vets authorised to administer travel documentation in your area.
Something to check…
It's essential that the travel documentation is completed and filled out correctly – just as much care needs to be taken over these as your own documentation or a pet insurance form.
Recent changes to the layout of the travel documentation form have caused several clients visiting my surgery undue stress because of some accidental omissions.
Pay attention to page eight of the passport (the vaccination against rabies section), where on the right hand side of the page it states "Authorised Veterinarian" with a small asterisk alongside it. At the bottom of the page, in tiny letters, the accompanying footnote says that the name, address, telephone number and signature of your vet should be included.
This is a new addition to the passport which has led to many vets not correctly filling out the form. Whilst this is unlikely to cause an ultimate failure to travel, some of the European border officials are insisting that travelers provide a fax from their vets verifying their details.
This is causing stress and delays to travels. So, if you have a new travel documentation, check page eight and make sure that your vet has filled in this section completely.
Now it's time to sort out the actual journey…
Travelling by ferry with your pet
- Make sure your dog or cat has had enough to eat before the journey starts and allow them to relieve themselves. Even after this, let them out every now and again to stretch their legs if this is permitted on your route.
- Only EU Pet Travel Scheme approved transport companies and routes can be used to take pets into and out of the UK. Brittany Ferries is an example of an approved company, but only on some routes, so do take care to check.
- On PETS Travel Scheme ferry routes your pet will be able to stay in your vehicle as they are not allowed in passenger areas of the ship (guide dogs excluded). The car decks are maintained at a comfortable temperature so ensuring your pet is safe and their welfare is cared for should not be a problem.
- Many ferry companies that are part of the PETS Travel Scheme require dogs to be kept in on-board kennels where you can visit them and walk them (as long as they are muzzled and on a lead), while you can also visit your pet if they are staying in your vehicle during shorter journeys.
- Carriers are not a requirement for dogs on ferries so your pet can travel in the car in the same way as it would within the UK.
Travelling by air with your pet
- If travelling by air, ensure your pet is allowed to travel on flights by your operator and always try to select a direct flight as changing planes can cause undue stress. Dogs or cats may be able to travel in the cabin in a suitable pet transporter (see below), but this will not be possible if your pet is more than 11 inches tall or 15 pounds in weight and they will have to travel in a separate area designated for pets.
- Your pet will be safe and secure in the cargo area as it will be temperature controlled and pressurised just like the cabin. Make sure they have a water bottle attached to their pet transporter so they can stay hydrated during the flight.
- Your pet transporter has to be big enough. If your dog is in a pet carrier then it must be big enough for them to stand up and turn around in.
In addition to the above advice, always make sure you check your travel company's policy on traveling with pets as there may be some slight variations between different airlines or ferries.
Have you had any problems with your pet's passport? Or was it plain sailing? Let us know your story below…