Weight gain and upset tummies – what to do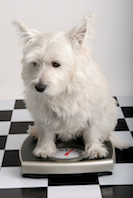 Eating unusual foods or too many treats can be harmful to your pet. Vet and writer Alison Logan explains what to do if your companion has gained weight or is suffering from an upset tummy.
NEW FOOD
If vomiting and diarrhoea occur when you introduce a new food, then the food may not suit your pet. Dietary changes should be avoided for small animals in particular.
TABLE SCRAPS
Tidbits are common culprits when it comes to weight gain and stomach upsets – so avoid giving them altogether.
HUNTING
Recently, one of our Labradors, Smudge, found a rabbit that was maggot-ridden. Thankfully he didn't eat it – the result may have been much more than a stomach upset.
SCAVENGING
Fat balls intended for birds pose quite a threat to dogs and cats. They are a highly concentrated source of fat and can cause pancreatitis. Stealing the cat's food is another source of extra food for dogs.
OVEREATING
Overloading the intestines with excessive food can also lead to an upset stomach. Puppies and kittens often develop diarrhoea when first taken into a new home.
INTOLERANCE
Cow's milk is a common cause of diarrhoea in those animals that have lost the ability to break down the sugar found in milk (lactose).
DEALING WITH DEHYDRATION
Dehydration is a major concern for small animals. Water can be syringed directly into the mouth. A cat or dog should be offered small, frequent drinks. Rehydration fluid is ideal, but if your pet refuses to drink it, try giving him cooled, boiled water instead.
NOURISHING WITH NUTRIENTS
The intestines need nutrients to help them recover. These should be in the form of small amounts of readily digested food, such as home-cooked chicken; white fish with pasta or potato; or scrambled egg prepared without milk.
SOOTHE A SORE STOMACH
If your pet is suffering from both vomiting and diarrhoea, he has gastroenteritis. The priority is fluids by mouth, followed by small, frequent meals of bland food after 24 hours, once vomiting has stopped. If you are in any doubt, contact your vet.