What's your favourite pet film?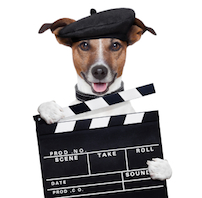 The last tear has been shed, the last frock fêted, the last speech cut short… Oscars season is over. But we still can't get enough of the movies, especially when they feature cuddly, comical or courageous pets. Here are our favourites, presented in order of release date.
LADY & THE TRAMP (1955)
A cosseted Cocker Spaniel falls on hard times when her owners have a baby and a pair of snooty Siamese cats come to stay. Lady takes to the streets and is befriended by the savvy stray Tramp – but can the pair evade the dreaded dogcatcher and find happiness together?
Favourite quote:
Tramp: I wonder what the leash-and-collar set does for excitement?
101 DALMATIANS (1961)
Proud parents Pongo and Perdita have produced 99 gorgeous Dalmatian pups. But their owner's boss, the supremely evil Cruella De Vil, has designs on turning the little ones into a fur coat. It's a comedy adventure that will continue to thrill families for years to come. (By the way, we also loved Glenn Close's particularly dastardly Cruella in the 1996 version!)
Favourite quote:
Cruella De Vil: Oh, yes! I love the smell of near-extinction!
WATERSHIP DOWN (1978)
Many bunny-owners first fell in love with the floppy-eared bundles of fur after watching the film Watership Down. It tells the story of Fiver and Hazel's quest to establish a safe and peaceful home away from the threats posed by predators, humans and even other rabbits. Today, it's regarded as a classic of heroic fantasy, and its environmental message is more moving and relevant than ever.
Favourite quote:
Narrator: Be cunning, and full of tricks, and your people will never be destroyed.
WHO FRAMED ROGER RABBIT? (1988)
Cartoon star Roger is prime suspect in the murder of Marvin Acme, who's been up to no good with Roger's bootylicious wife Jessica. Roger turns to seedy private eye Eddie Valiant for help, and hilarious dialogue and ground-breaking interaction between live and animated characters follow.
Favourite quote:
Jessica: Darling. I want you to know I love you. I've loved you more than any woman's ever loved a rabbit.
TURNER & HOOCH (1989)
Tom Hanks stars alongside Beasley the Dogue de Bordeaux in Turner & Hooch, which sees detective Scott Turner lumbered with a large and slobbery witness to protect as he investigates the murder of Hooch's owner. Needless to say, the hard-bitten crime-fighter reveals a soft heart as he falls for both the pooch and Emily, the comely vet.
Favourite quote:
Scott: Don't eat the car! Not the car! Oh, what am I yelling at you for? You're a dog!
CATS & DOGS (2001)
This film is an action adventure featuring canine and feline heroes and heroines of all shapes and sizes, from good guy Buddy the Bloodhound to Mr Tinkles the sinister white Persian cat. There's a battle brewing as the cats attempt to sabotage an anti-dog allergy serum and thus secure the world's humans for themselves. A ruff-and-ready comedy romp ensues.
Favourite quote:
Mr Tinkles: That is all… cats rule.
GARFIELD: THE MOVIE (2004)
Created by Jim Davis in 1976 and featuring in the world's most widely syndicated comic strip, everyone's favourite misanthropic moggie got his first moment on the big screen in 2004. Garfield: The Movie turned the relationship between the title cat and Odie, his canine companion, on its head, with the cat on a quest to rescue the pup from an evil pet-show host.
Favourite quote:
Garfield: Once again, my life has been saved by the miracle of lasagna.
WALLACE AND GROMIT IN THE CURSE OF THE WERE-RABBIT (2005)
A giant, carrot-crazed bunny is on the loose and threatening the town's prize veggies in the run-up to the local agricultural show, and only Wallace and his dog Gromit can save the day. The film is a hilarious horror spoof from DreamWorks, in which cutting-edge animation and razor-sharp social commentary combine to great effect.
Favourite quote:
Wallace: Veg bad. Veg bad. Veg bad. Say no to carrots, cabbage and cauliflower.
MARLEY & ME (2008)
This film tells of the relationship between newlyweds John and Jenny and their galumphing golden Lab, Marley. As the couple progress through the trials and tribulations of marriage, career and parenthood, Marley grows from havoc-wreaking pup to an indispensable part of the family, adored despite his many foibles. A sure-fire tear-jerker for anyone who adores dogs.
Favourite quote:
John: A dog doesn't care if you're rich or poor, educated or illiterate, clever or dull. Give him your heart and he will give you his.
PUSS IN BOOTS (2011)
This adaptation of the 17th-century French fairytale Puss in Boots is a real mash-up of a movie, featuring a cast of our favourite cartoon characters including Shrek, Humpty Dumpty and a golden goose. Antonio Banderas's husky-voiced reading of the role makes Puss a thoroughly modern moggie, without detracting from the cavalier charm of the original character.
Favourite quote:
Puss in Boots: You have made the cat angry. You do not want to make the cat angry!
What are your favourites? Did we miss out any great films featuring pets? Let us know by commenting in the box below.