Why you should rehome a rabbit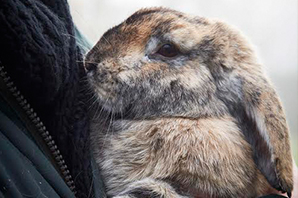 Animal welfare charities such as Blue Cross take in hundreds of abandoned rabbits each year, helping them find a loving new home.
Rescue centres are a great place to find a new pet bunny. Not only will you be giving an animal the chance of a happy future, but there are other benefits too.
Petplan looks into the process of adopting a new bunny and what the benefits are…
The benefits of rehoming a rabbit
Rescue centres are likely to have a range of rabbits, varying in size, breed and age.
This opens you up to lots of different options, meaning that you may end up falling in love with a rabbit that you might not have considered before visiting.
The great thing about rehoming an older rabbit is that in most cases they will already be used to spending time around people, which is great if you have children.
Aside from the ability to choose from a wide selection of different rabbits, other reasons to adopt from rescues include:
Convenience: most rescue centres will have already litter box trained their rabbits, saving you time from having to litter train your new bunny from scratch.
Take two: rabbits are incredibly social animals that thrive when they have company to play and bond. Rabbits need company and when rehoming, you are likely to find an already bonded pair or trio.
Save costs: a rescue bunny could save you money on vet bills. Animal charities often partner with local vets and rabbits will be neutered and vaccinated before being rehomed. Although you will need to carry on providing regular vaccinations for your bunny via your vet.
Healthy rabbit: rescue centres ensure that all rabbits are health checked by a vet before being rehomed.

A good deed: providing a loving home for an adopted bunny is a brilliant thing to do! Often a change in circumstances for owners can result in a bunny being given to a rehoming centre, and through no fault of their own, they are left to find a new forever home.
Expert advice available: reputable rescue centres are highly knowledgeable and will inform you on how to properly care for your new fluffy family member to ensure a rewarding, long-term relationship.
What is the process of rehoming a rabbit?
Before you take your new pet home there are a few things that need to be done:
You will be required to fill in a form in order to ensure that you're a suitable match for the rabbit.
If the rabbit you want is not right for you, professionals will explain why and let you know about any others that may make a better fit for you and your family.
You may be required to visit the bunny a few times so you can get to know each other.
A home check may be arranged if necessary (don't worry, the bunny you've fallen for will not be rehomed to someone else while this happens).
If you live in rented accommodation, you may need to provide evidence of permission to keep a pet in your home.
If you and the bunny are a suitable match and everyone is happy, you'll then take your new pet home.
Adopting a bunny can be a rewarding experience for the entire family. They are intelligent, playful, social and are usually excellent with children.
Have you ever rehomed or adopted a rabbit? What was your experience? Let us know in the comments section…