If you're a dog owner, you'll know no two dogs are alike: they all have their own personalities, and that's what makes them such fantastic fictional characters. We've explored page, stage and screen to bring you seven of our favourites – which does your dog have most in common with?
---
These famous dogs – from the pages of classic books, cult TV programmes and award-winning films – have one thing in common: they're all distinctive, compelling characters who've captured our imaginations. But is your own pup a fearless Snowy, a happy-go-lucky Tramp or a snack-loving Scooby-Doo?
Beethoven
Released in 1992, Beethoven is one of the most popular dog-themed movies ever. Beethoven helps the children of his family navigate fledgling relationships and scare off bullies, saves the youngest from drowning, and despite quite a bit of mischief even manages to win over the reluctant father. His escapades proved so popular that the original film, in which Beethoven was played by a dog called Chris, was followed by seven more.
Breed: Saint Bernard
Coat: brown and white
Character: loyal, helpful, chaotic
Likes: his family, Beethoven's Fifth (dum dum dum DUM)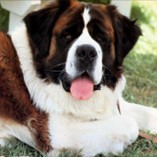 Lady and the Tramp
When Lady, a spoiled Cocker Spaniel, finds herself without a home and is befriended by the adorably scruffy stray, Tramp, the pair go on to have plenty of adventures – and fall in love, giving rise to the famous spaghetti-and-meatballs scene. The original animated movie came out in 1955, and it was followed in 2019 by a hybrid live-action/CGI version, filmed using real dogs Rose and Monte who were then augmented digitally.
Breed: Cocker Spaniel (Lady), mixed breed (Tramp)
Coat: brown and beige (Lady), grey-brown and tan (Tramp)
Character: timid and curious (Lady), laid-back and cynical (Tramp)
Likes: nice things (Lady), freedom (Tramp), spaghetti (both)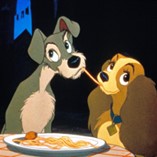 Snowy from The Adventures of Tintin
Trusty sidekick to Tintin, the Belgian adventurer with the impressive quiff, Snowy – or Milou in the French-language versions – is a Wire Fox Terrier who frequently alerts Tintin to danger and rescues him from perilous situations. In the original comics he could speak just like a human character, but this was phased out in later versions in favour of him communicating only with Tintin – a sign of their special bond.
Breed: Wire Fox Terrier
Coat: pure white
Character: lively, fearless, loyal
Likes: bones, whiskey (which real dogs definitely shouldn't drink!)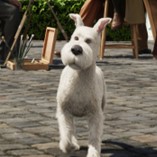 Jack from The Artist
When the silent movie The Artist was released in 2011, one of its standout stars was undoubtedly Jack, who belongs to a Hollywood actor and is himself an exceptional performer – and a hero, when he saves his owner from dying in a fire. The dog who played him, Uggie, was rehomed twice for being too 'wild', before finding a home with animal trainer Omar Von Muller and forging a career as a professional stunt dog – so successfully that his paw-prints are immortalised on the Hollywood Walk of Fame.
Breed: Jack Russell
Coat: white and tan
Character: cute, loyal
Likes: attention, performing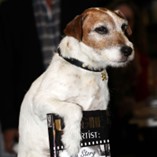 Toto from The Wizard of Oz
You probably know him as Judy Garland's co-star, but Toto first appeared in 1900, in the children's book that inspired the film. Author L. Frank Baum describes him as 'a little black dog with long silky hair and small black eyes that twinkled merrily on either side of his funny, wee nose' – and in both book and film he's a steadfast companion to Dorothy as they journey through Oz, and a reassuring reminder of her Kansas home.
Breed: unspecified terrier (in the book); Cairn Terrier (in the film)
Coat: black (in the book) or brindle (in the film)
Character: playful, loving
Likes: Dorothy, chasing chickens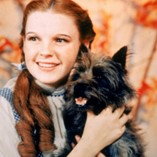 Buck from Call of the Wild
A 1903 novel by Jack London, Call of the Wild tells the story of Buck, who's stolen from his home in California and sold to become a Canadian sled dog. Over the course of an extraordinary journey, literally and figuratively, he transforms from pampered Californian pooch to rugged working dog – and finally, after great hardships, to an honorary wolf, as he joins a wild pack and answers 'the call of the wild'.
Breed: Saint Bernard-Scotch Collie cross
Coat: brown and white
Character: intelligent, proud, adaptable
Likes: being top dog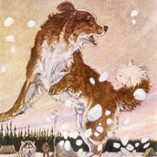 Scooby-Doo
Scooby-Doo has to be one of the most famous cartoon dogs out there. Officially named Scoobert-Doo, he was intentionally designed to be the antithesis of a prize-winning pure-bred Great Dane, with bow legs, dark spots on his coat, a long tail and a sloped back and chin. Together with his human pals Shaggy, Fred, Daphne and Velma, he rides around in the Mystery Machine (a lurid van) and attempts to solve the spookiest of crimes – with, ahem, variable success.
Breed: Great Dane
Coat: brown with dark spots
Character: lovable, cowardly, occasionally brave
Likes: sleuthing, snacks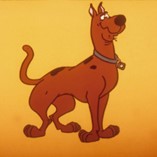 Is your dog a Beethoven lookalike? Do you have a performing pup to rival Jack? Let us know who your pooch resembles by tagging us at @Petplan_UK on Instagram or X, using the hashtag #PethoodStories