The internet means that we're now sharing more than ever: from photos and videos, to car rides and even our homes. But would you share your dog? We spoke to an owner who's done just that, and asked clinical animal behaviourist Rosie Bescoby for her tips on ensuring it's the best solution for you and your pet.
---
What is dog sharing?
In 2012, the founders of dog-sharing website BorrowMyDoggy.com discovered that, for every dog owner looking for a pet sitter or walker, there was a dog-lover who couldn't have one of their own. So, the idea of dog-sharing was born.
BorrowMyDoggy is the first and only site of its kind in the UK and aims to provide an inexpensive, mutually beneficial arrangement for owners who need minders for their dogs. It was founded two years ago by Les Cochrane, an animal charity volunteer, and Rikke Rosenlund, a dog lover who could never have a pet as a child because of her mother's allergies. Rikke hit on the idea while she was looking after a neighbour's dog, and it's her belief that: 'There's no need for a dog to be home alone, or for people to pay for a dog walker or for kennels, when there are lots of people who adore dogs but can't have them due to work, or travel, or other reasons.'
The site now has several thousand members across the UK, and more and more pet owners are turning to it as a way of providing care for their four-legged friends when they're not at home.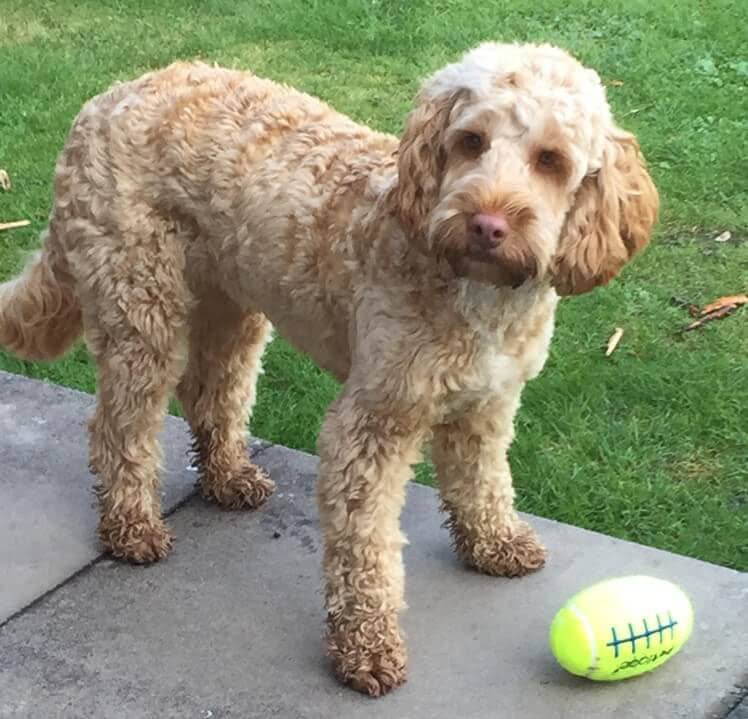 Dog sharing in action
Beth Claridge and her family were desperate for a dog. They'd done their research and decided that a Cockapoo was the breed for them. 'We took time to properly think about having a full-time dog,' says Beth, who lives in Buckinghamshire with husband James and their two daughters, Esme (7) and Edie (4). 'I discovered BorrowMyDoggy.com, and dog sharing seemed like the perfect idea for our family. Both my husband and I commute into London, so it wouldn't be fair to leave a dog at home; but, as a child, my dogs were my best friends and I wanted the same opportunity for my children.'
Beth searched on BorrowMyDoggy.com for Cockapoos living nearby, and found 15-month-old Mac. Mac's owner, John, is a firefighter and he listed his dog on the website in the hope of finding someone who could help him look after his pet.
A time was arranged for Beth and her family to visit John's house, and they all took Mac for a walk. 'John was still training Mac himself, but he showed my girls how to give him a treat, and let them hold his lead and play with him,' says Beth. 'Our whole family fell in love with him straight away.'
After the success of the first meeting, Beth invited John and Mac to visit their house. John stayed for a while so that Mac would know it was a safe place, and then left for a short period. The relationship blossomed, and soon the family were looking after Mac a couple of times a week.
'The girls adore Mac and he's part of our family now,' says Beth. 'He's also taught them about the responsibility of looking after a dog.'
Flexible friends
The mutually beneficial arrangement works well for Beth and John, as it's kept flexible to cater for everyone's jobs. 'Both John's and our working hours change week by week, so we just check what days are best for each other,' explains Beth. 'It's very relaxed. We try to have Mac twice a week, but sometimes we have him for longer if John is away.'
To help Mac settle, particularly at nighttime, they brought his own bed to Beth's at first, and also John's t-shirts for a reassuring smell. But it wasn't long before Beth's house became a home from home. 'We bought Mac a separate bed for our house, and it was a big event for the girls to choose one,' remembers Beth. 'John would always give us some of the food he had bought to give Mac, but now we buy some too so that it's always here waiting for him."
Beth hasn't ruled out her family getting a dog of their own in the future, as it can be hard saying goodbye to Mac, but it has meant that they can experience dog ownership at times that fit in with them. 'For any family thinking about getting a dog, borrowing one first is an amazing eye-opener to see how much they impact on your life,' says Beth. 'Sharing Mac has given us the opportunity to have a wonderful pet in our lives, which we really wouldn't have had otherwise.'
What should you consider before you dog-share?
Clinical animal behaviourist Rosie Bescoby has the following advice for dog owners who are thinking about allowing someone else to help look after their pet:
Depending on the dog, it may be best to meet prospective 'borrowers' for the first time out on a walk, then return home together. Don't rush introductions. It's important to get it right, so take as many visits as you need to ensure your dog is happy.


It's really important that everyone is honest about any problems or quirks your dog might have. For example, does he pull on the lead? How does he react to unfamiliar people and dogs? Does he have a reliable recall? Does he travel well in the car?


To help your dog settle overnight at someone else's house, it's a good idea to take your dog's own bedding as it will smell familiar to him. Your dog may struggle in a new environment sleeping alone, so any rules can (and should) be broken. For example, allow your dog to go upstairs or have someone sleep downstairs with them.


If you're looking for products to help your dog settle in, Rosie recommends trying dog chews and toys that can be filled with edible treats, such as Kongs. They'll keep a dog's mind occupied and are extremely helpful when encouraging him to adapt to a new environment.