Not only do we provide free insurance for your newly rehomed animal, but Petplan will donate 10% of the premium from your new policy and each year that policy is renewed. This is used to help directly fund the valuable work carried out by the charities and individual rehoming centres.
We'd like to tell you about a few of these charities here and how you can help animals in need.
Battersea

Battersea is here for every dog and cat, and has been since 1860. Over 158 years, we've gone from one home in London to three rescuing and rehoming centres across the country and have cared for over three million vulnerable animals. We believe that every dog and cat deserves the best. That's why we help every dog or cat in need — whether it's newly-born or getting on, cute or cute in its own way.
Battersea. Here for every dog and cat.
For more information call Battersea on 020 7622 3626 or visit www.battersea.org.uk.
Blue Cross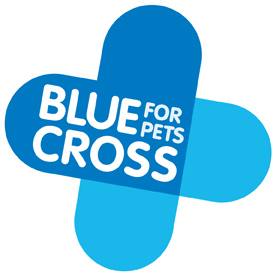 Founded in 1897, Blue Cross is a national charity dedicated to improving the lives of sick and unwanted pets. Blue Cross take in animals of all shapes and sizes from hamsters to horses, and find them loving new homes through their network of adoption centres and pet fosterers. They make sure thousands more animals get the veterinary treatment they need when their owners cannot afford private veterinary fees through their animal hospitals, mobile clinics and animal welfare clinics.
They aim to help as many animals as possible by promoting responsible pet ownership through their extensive range of pet care advice factsheets and videos. They also have an education team who visit schools and youth groups advising on animal care.
To find out more our visit www.bluecross.org.uk.
Cats Protection

Formed in 1927, Cats Protection (CP) has grown to become the UK's leading feline welfare charity. It now rehomes and reunites 55,000 cats and kittens every year, through its nationwide network of 29 adoption centres, national rehoming centre and over 250 volunteer-run branches.
Its work doesn't stop there though: Cats Protection also provides an array of cat care information via its website and National Helpline. It also promotes the benefits of neutering for a happier pet and seeks to educate people about cats and their care.
To find out more contact Cats Protection on 03000 12 12 12, or visit www.cats.org.uk.
Dogs Trust

Dogs Trust is the largest dog welfare charity in the UK, and care for over 12,000 stray and abandoned dogs at their network of centres every year.
Founded in 1891, Dogs Trust has always campaigned on dog-welfare related issues to ensure a safe and happy future for our four-legged friends.
Call 020 7837 0006 or visit www.dogstrust.org.uk for further information.
NAWT

Founded in 1971 the National Animal Welfare Trust (NAWT) is now one of the top 10 animal rescue and re-homing charities in England, and runs five rescue & rehoming centres across the country. NAWT's centres are located in Watford, Berkshire, Essex, Somerset and Cornwall.
The Trust is home to a surprisingly wide variety of animals primarily dogs and cats but also farm animals, horses and donkeys, ducks, poultry and small domestic pets too.
The Trust is a non-political and non-campaigning organisation; it simply concerns itself with looking after some of life's casualties. It receives no money from the government and relies entirely on voluntary contributions to carry out its work.
To find out more contact NAWT on 020 8950 0177 (0900 to 1700 Monday to Friday) or visit www.nawt.org.uk.
Retired Greyhound Trust

The Retired Greyhound Trust (RGT) is a national charity, dedicated to finding homes for greyhounds when their racing days are over. Founded in 1975, it's proud to have found over 75,000 greyhounds a loving home. Each year RGT home approximately 4,000 greyhounds and help hundreds more, making it the country's largest single-breed homing charity.
The charity strives for a day when all racing greyhounds retire to loving homes and are treated with compassion and kindness.
The Trust promotes homing and works with those involved in greyhound racing, helping to raise the profile of the thousands of greyhounds retiring from the sport each year. RGT also liaises with other canine welfare charities to find good homes for greyhounds across Britain.
RGT has a network of over 60 branches that are run by its volunteers. Its only funding comes through the generosity of the general public and from the greyhound racing industry.
If you would like to find out more about Retired Greyhound Trust or wish to support the charity please visit www.retiredgreyhounds.co.uk.
Scottish SPCA
The Scottish Society for the Prevention of Cruelty to Animals is Scotland's animal welfare charity.
The society receives no government or lottery funding and relies on public donations to continue their vital work protecting, rescuing and caring for Scotland's abandoned, hurt and defenceless animals.
Scottish SPCA Inspectors save thousands of domestic, farm and wild animals from harm and danger every year, while the rescue and rehoming centre vets and staff look after, rehabilitate, release and find new homes for thousands more.
With the prevention of cruelty to animals at the heart of everything they do, the Scottish SPCA Education Officers run an animal welfare education programme in schools, communities and their largest centres. The society also actively campaigns for improved animal welfare standards. Volunteers play a key role working with animals in the centres, supporting Education Officers and fundraising in their local communities.
If you are interested in helping Scotland's animals please call 03000 999 999 or visit www.scottishspca.org for more information.
Wood Green Animal Shelters

Wood Green Animal Shelters is a national animal welfare charity that has been taking in and rehoming animals since 1924.
The charity's three shelters rehome over 6,000 animals each year. Nearly a third of the animals Wood Green take in require treatment for pre-existing medical conditions or injuries, which in some cases have been life threatening.
Wood Green relies solely on the support of the general public; without this support the shelter would not be able to continue its valuable work.
If you would like to find out how you can help Wood Green Animal Shelters or would like further information about the charity please call 08701 90 40 90 or visit www.woodgreen.org.uk.
---
Petplan is also proud to work with the following charities:
Hounds for Heroes

Hounds for Heroes is a charity dedicated to providing specially trained assistance dogs to injured and disabled men and women of both the UK armed forces and civilian emergency services. Hounds for Heroes trains assistance dogs to provide practical support which aims to enhance the quality of life of their new owners. Able to do everything from opening train doors to helping with the shopping, assistance dogs are able to transform the lives of their new owners.
Visit their website to find out more about the fantastic work Hounds for Heroes do, or check out the Petplan blog for updates on the charity and how Bunker, one of the fantastic assistance dogs currently in training is getting on http://blog.petplan.co.uk/tag/hounds-for-heroes/
ZSL
Registered Charity No. 208728
The Zoological Society of London (ZSL) is the conservation charity which operates ZSL London Zoo and ZSL Whipsnade Zoo. The ZSL vision is a world where animals are valued, and their conservation assured.
London Zoo dates from 1826 and is one of the most famous zoos in the world. With over 750 different species, it has the largest and most varied collection of animals in Britain, featuring tigers, giraffes, komodo dragons, as well as deadly snakes and pulsing jellyfish. ZSL Whipsnade Zoo celebrated its 80th birthday in 2011. Set in 600 acres of countryside on the edge of the Chiltern Downs it is home to elephants, lions, rhinos, brown bears and many more besides.
ZSL conservation teams are involved in projects in over 50 countries across the globe. These range from the Serengeti cheetah project, the longest running study of cheetahs in the world, to returning desert gazelles to the wild in Saudi Arabia and restoring UK native species, such as British field crickets and cornsnakes.
To find out more call 0844 225 1826 visit www.zsl.org
When you take out a policy with Petplan you can donate 10% of your premium cost to ZSL to help support ongoing conservation work. You can find our more here.