Petplan Debate: Should you take pets on summer holidays?
---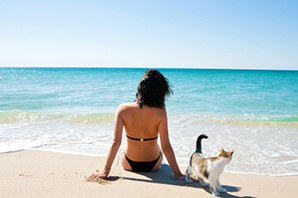 The school summer holidays are in full swing and, while many of you will have booked your holiday months ago, there will still be some looking around for last minute deals.
However, choosing whether to go half board or all-inclusive is just one summer problem for pet owners – deciding if your pet should go with you can often cause headaches.
Do you think your animal deserves a pet-friendly holiday? Or do you think it's best to leave them at home? We've taken a look at both sides of the debate – but what do you think?
"Under the Animal Welfare Act you have a legal responsibility to ensure their welfare and to provide for your pet's needs as does any person you choose to leave them with. Leaving them without proper arrangements for their welfare is a criminal offence." - RSPCA
The argument for keeping pets at home
• A lot of animals can find the change in routine, environment and travelling stressful. It may be better to leave them in the care of a responsible person while you're away.
• It can sometimes be difficult finding a holiday destination that will have all the facilities to fulfil your pet's needs, limiting your travel options.
• The Eurostar and many airlines will not transport pets.
• Any damage and disruption caused by pets in holiday accommodation can lead to hefty fines.
• There are plenty of reputable boarding kennels that will look after your pet whilst you are away. Listen to friends and vets to get their advice of the best ones in your area.
• If you don't want to board your pet, there is the option of home visit services, where pets are left at home and a caregiver visits during the day to feed and exercise.
• Alternatively, they can be taken on a 'holiday' of their own to a responsible relative or friend's house. It's a good idea to take them round a few times before you leave your holiday for them to familiarise themselves with the new environment.
The argument for taking pets on holiday:
• Despite the thought that cats can be left alone for long periods of time, this is not a good idea. Cats can obviously get sick and, if left for several days alone, they won't get the help they need until you return.
• Having your pet boarded may not work for everyone– they may be fed an unfamiliar diet or treats, and it's important to check that your pet has received all the necessary vaccines required by the boarding kennels.
• Pets can escape when left bored and alone for long periods of time.
• Often pets can often enjoy the change in routine with you on holiday.
• There are holiday houses and hotels that do cater for pets and will be happy for you to bring them along, often with guidelines to abide by.
What do you think is best for your pet? Do they love the travel or do they love staying at home? Share your stories below
---