How to have a safe holiday with pets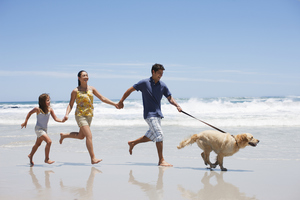 How to have a safe holiday with pets
As a nation of pet lovers, we often find it difficult to go without seeing our pets for extended periods of time, and at no point is this more apparent than in summer when holiday season rolls around once more. According to the recent Petplan Pet Census, of over 60,000 pet owners, 50% said that they would forego luxuries like holidays in order to better accommodate their pet's needs, 49% of people have decided where to go based on their pet, and 39% have chosen to holiday in the UK because of their pet.
However, while taking a pet on holiday may require extra planning for you and your family, whether you're going abroad or staying in the UK, it is still a perfectly feasible way to take your holidays. If you are considering taking your pet on holiday, then the main thing you need to consider is their safety. Petplan explores how to have a safe holiday with pets…
Should you take your pet on holiday?
When trying to decide whether or not to take your pet on holiday, there are lots of factors to consider. One of the more common considerations is whether there is a responsible person to look after them or if you would be happy to leave them in a kennel. Many animals can experience separation anxiety and hate to be separated from their owners for long periods of time, and this can be particularly stressful for your pet. Even though cats are typically more independent animals and can be left alone for longer periods, we would advise against this as your cat still needs you, and if they get sick or injured they won't be able to receive the help they need until you return.
Where you are going on holiday is also a very important factor when considering whether you should take your pet with you. Holidaying in the UK is much more relaxing for your pet than going abroad. Going abroad can be more of a challenge and there's a lot more you need to be mindful of, additionally, if you're jetting off to hotter climates or another extreme environment then we would recommend leaving your pet at home.
While some animals may enjoy a slight change to their routine, many might find large disruption stressful. If your dog, cat or small animal is not used to travelling and visiting new places the experience is likely to be a negative one for them. Each pet will react differently so only you will know what the best decision for them is.
Taking a pet on holiday requires a lot of careful planning and you should begin preparation at least six months in advance of your travel to ensure that you've thoroughly completed everything you need to do. You have a duty of care for your pet so if something doesn't seem completely right to you then it's important that you leave absolutely nothing to chance.
Travelling with pets
If you have decided to take your pet on holiday with you then you'll need to be prepared. While millions of animals safely travel on planes, trains, and cars each year, it's still important to do your due diligence.
Before travelling you'll need to make sure:
That your pet has a clean bill of health and any necessary vaccines and worming treatments have been administered.
You should be aware of your pet's medical history and any allergies they may have, but if you can have this in writing on your phone or a hardcopy then it's definitely worth taking away with you.
Your travel documentation is in date and fully compliant with the laws and restrictions of the country you are visiting. Several countries won't permit pets of any kind to enter but if you're travelling within the EU, travel documentation will be sufficient documentation required for entry.
Ensure you know where the nearest vets or animal hospital is to your destination, just in case you do encounter a medical emergency. Preparation like this might seem over the top, but it can make a huge difference in practice.
You will also need to ensure that your pet is able to travel. Many train lines and airlines won't permit pets to travel with them, so this should be a top priority during your preparations.
At present, there is a lot of confusion regarding travel documentation if the UK is to leave the EU and the various outcomes that could still unfold. For this reason, it's more important than ever to pay close attention to this great resource of official government advice regarding travelling with your pets.
In either case, this can't be a last-minute thing and some countries may require vaccinations and medical proof regarding your pet's eligibility for travel. It's estimated that you should begin the process of acquiring travel documentation at least a month before travelling in the EU, or at least six months in advance if travelling to unlisted countries.
In terms of essentials for taking your pet on holiday, you'll want to make sure you have their collars, identity tags, toys, food, bowls, bedding, doggy bags/litter tray and anything else that your pet is familiar with that will help them to ground themselves and relax in a new location.
On holiday
Once you've arrived at your destination, the rules are largely the same as they are at home, but you'll need to be more vigilant than usual:
Due to the change of routine and the likely stress this may cause, it's important that you give your pet extra care and reassurance to let them know that everything is okay. Make sure you pay close attention to your pets' behaviour and if they are showing any signs of stress or discomfort, offer them support, keep them calm, and if necessary, make sure they have access to an area where they can get some peace and quiet, ideally with familiar bedding from home.
Walk your dog regularly to ensure they're still getting their exercise, feed them at regular intervals, don't let them out of your sight, and if possible try to keep them on a lead at all times.
Make sure your pet has an identification tag on their collar so, in the unlikely event that they do get lost, they will be returned to you quickly.
As much as this is your holiday, and your chance to relax, don't forget that you have a duty of care for your pet which means that their safety should always be at the top of your list of priorities.
Environmental hazards
New environments can represent new dangers, especially heat. If it's too hot for yourself then it will be too hot for your pet. Make sure that all pets always have access to plenty of clean drinking water and shady spots for them to cool down.
You should also be aware of the dangers of sunburn as, just like humans, prolonged exposure to more powerful sunlight can quickly prove detrimental to your pet's health. Short-haired animals are more prone to UV damage due to them having less hair to cover their skin. Try to limit your activities in direct sunlight and avoid the midday sun as best as you can.
Foreign flora and fauna can also represent new risks to your pet, as they are unlikely to know the dangers that these represent. We recommend keeping your pet on a leash as often as you can, but you should double-check your surroundings to make sure there is no poisonous/hazardous fauna around you and keep them away from any wild animals.
You should also make sure you're well-acquainted with any necessary procedures in the event of a nasty bite or accidental ingestion. Always keep your vets' number with you, along with any medical information that might be needed if you do have to visit an emergency practice.
One of the more common problems that can affect animals in hotter climates is dry grass. Just like in England, when grass dries it becomes sharper and more brittle, this represents a danger as the sharp blades and seeds can become trapped in your pets' feet. Take time to inspect, and potentially clean, between their toes after you've been outside. If you notice your animal is walking differently, double-check for any wounds and consult a professional.
Taking your pet on holiday
As you can see, taking your pet on holiday is not impossible but it is a job that requires constant vigilance. Our pets, even more so than us, are creatures of habit and routine, and breaking these routines can cause them unnecessary stress.
In order to ensure that everyone involved has a fun, and above all safe, time on their holiday, follow these rules as best you can. If you feel that you need further information, consult gov.uk and your vet so that you leave nothing to chance.
Do you have any tips for taking your pets on holiday? Let us know in the comments below…