Do rabbits need company?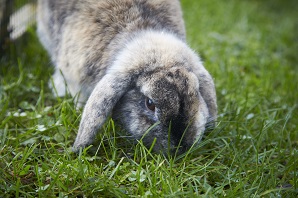 Just like humans, rabbits are incredibly social animals who thrive when they have company to play and bond with.
But rabbits don't just need company – they need the right company.
When found in the wild, these highly sociable animals naturally live together in big groups – so keeping your bunny on their own is depriving them of a fundamental need to be in the company of their own kind. Therefore, it's vital you keep rabbits in pairs to keep them happily bouncing around so they avoid becoming lonely or stressed.
Petplan has put together a guide to help you understand the social needs of your rabbit and learn which rabbits best complement each other and live well together…
Why do rabbits need company?
Rabbits who live in big groups, or in pairs, are generally a lot happier than rabbits who are kept alone. For lone rabbits, it's not uncommon for them to become bored, lonely and sometimes even depressed.
Rabbits enjoy having other rabbits around them to be able to groom, eat and play together. They are also well attuned to each other and are able to pick up each other's moods and keep one another happy.
If you are concerned about the increased cost involved in keeping an extra rabbit, it shouldn't be too dissimilar with them sharing shelter, food, water and toys. The only area where you may notice a difference is the occasional cost of an extra vaccination.
Which rabbits work best together?
The easiest way to bond rabbits, is by either choosing a male or female from the same litter, ensuring you have them neutered before any fighting occurs or by choosing two rabbits from different litters but who are around the same age – between 8-10 weeks.
Once rabbits bond, they rarely venture away from each other. They groom each other and eat and sleep together. If you need to take one of the rabbits to the vets, always take them together as they seek comfort in each other when stressed.
What to do if your rabbits fight
On rare occasions, rabbits may start to fight. Often, if you have had them since birth, they may have reached sexual maturity and require neutering to prevent their hormones kicking in.
If they have been introduced as adults, they may require a period of bonding to learn to trust each other. There are a series of slow approaches and exercises that you can practice to help the bonding process between two rabbits.
If you already have a rabbit, some rescue centres will let you take your bunny in with you to choose their new pal. They will be able to show you which rabbit they get along with the best to avoid any mismatches amongst the group.
Do you have more than one rabbit? Do you have any advice for anyone looking to pair their rabbit? Leave a comment below…