How to Calm a Dog Down During Fireworks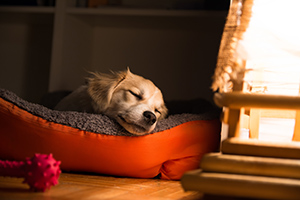 How to Calm a Dog Down During Fireworks
Dogs and fireworks aren't an easy pairing. The loud noises and flashing lights can be very frightening for them, but there are things you can do to minimise their stress levels.
Many dogs experience some level of distress when they hear fireworks, and you will be responsible for calming them down. However, this can prove difficult without the proper guidance. Which is where we come in...
Petplan's Pet Behaviourist, Nick Jones looks at some of the best ways to calm your dog, help them to relax, and stay safe when there are fireworks going off.
1. Walk them during daylight hours
A long walk or playful exercise in the daytime helps lessen any extra energy that may trigger your dog's anxiety when fireworks start later on. If your dog is winding down while the fireworks are underway, the less anxious they will be.
2. Close windows and curtains
This will help muffle the noise of fireworks. But remember, it's not only the sound of fireworks that can cause distress for dogs, it's also the light and flashes across the sky – something to keep in mind if you're particularly concerned about your dog's eye health. Leaving lights on indoors reduces the impact of these flashes.
The sudden bang of fireworks can be masked by playing music or keeping a radio or TV on, all of which work to limit the negative effects such noises may have on your pet. In fact, classical music has been shown to calm dogs in general, so it may be worth adding some to your playlist – for their sake, if not your own.
4. Create a quiet space
This should be a zone where your dog can feel in control. Dogs may also be most comfortable with access to all quiet areas of the house rather than a designated 'safe place', so allow them that freedom of curling up wherever they fancy as the fireworks pop and hiss outside.
5. Provide a long-lasting chew to help keep them distracted
Anything to take their mind off the bright lights and loud noises. Just make sure that whatever you feed your dog doesn't interfere with, or deviate from, their regular diet.
Worst-case scenario, any dog that does get out or run away from home while fireworks are going off can be reunited with their owner much more easily if they have been microchipped. Microchipping your dog is now a legal requirement, so really, it's just a question of you ensuring everything is working as it should be in the lead-up to any firework-heavy occasions.
7. Show them you're not bothered
Animals are highly perceptive and will notice if you're behaving unusually. Following your dog around or being overly affectionate may cause them to feel nervous or confused. If your dog can see that fireworks have no effect on you, this may help ease their anxiety.
8. Keep their water bowl full
It's important that you give your dog plenty of water if you're expecting fireworks. This is because their body heat rises as they become anxious when hearing (and seeing) the displays. You will also almost certainly notice your dog panting as they get stressed out; giving them water to drink helps maintain calmness as well as hydration levels.
9. Never shout at your dog
This should go without saying, especially if they're already anxious. If you have to leave your house during firework season and come home to find your dog has been destructive or toileted, don't get angry. Reprimanding them won't help and will also make your dog more stressed.
10. Plan well in advance
With around 45% of the UK's dogs fearing fireworks, according to the RSPCA, you need to plan ahead and take steps to help keep your dog calm and safe in the weeks preceding such displays. A little forward thinking goes a long way in these kinds of situations and will make things a lot easier to deal with when fireworks fill the skies once again.
If you feel like you've tried everything and your dog is still stressed whenever there's fireworks, then please consult your vet. Speaking to a dog behaviourist about any potential behavioural issues that may arise around this type of event is also recommended, as they can offer invaluable advice to help safeguard the health and happiness of your dog and make sure their experience of fireworks is as positive as possible.
Got any other advice on calming dogs down during fireworks? Let us know in the comments below...
Related Articles