New Year's resolutions for you and your pet
---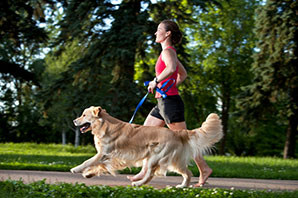 As 2013 comes to an end, you may start to contemplate good intentions for the new year. But remember, resolutions are not limited to pet owners: our faithful friends can also benefit from some positive thinking. Here Julian Hall explores top tips of how to keep your pet perky in 2014.
More exercise is a great way to kick-start the year for both you and your pet. Even if you already have a strict regime of walking the dog, there's often room for exercise improvement. Why not try a different activity to keep things exciting, like doggie yoga (known as 'Doga'), a new craze hitting our shores from the States?
Cats often get overlooked in the exercise stakes, especially indoor cats. When we're cosy and warm inside with the cat snuggled on our lap, it's easy to forget that our moggy needs to be mobile too. Luckily there is no shortage of cat toys to get them moving; the laser mouse is often a favourite and the classic feathers-on-a-string is still a big hit.
Introducing new toys is always a good idea (you can even get exercise dumbells for rabbits!) and this is part of fulfilling another resolution - fun & play. If you lead a busy life, it can be difficult to spend quality time with your four-legged friends. But try to put more time aside to play games together, and you'll see how much it can benefit both of you and strengthen your relationship.
The best resolutions come with balance, especially in the case of diet. Cutting out snacks is usually the aim. Many of us are guilty of reaching for the treat drawer a little too often - treats should be special, and something your pet looks forward to, not expects. And why not introduce a little more variety into your furry friend's diet, be that a mix of wet and dry food, or trying new varieties.
Hand-in-hand with the balanced diet is the regular health check. You may be conscientious with your visits to the vet, but many of us can leave it longer than we ought to take our precious pets for a routine check-up. But this tardiness can mean ailments are not nipped in the bud when they should be.
Start the year as you mean to go on by investing in a safety net. The holiday period is a good time to get admin, such as pet insurance, in order; it can really pay off in the long run. Petplan offer a range of policies to suit you and your pet - visit our website for more information.
So eat, drink, and be merry through the festive season, ready for a healthy, happy, invigorating new year for you and your pet.
Do you have any New Year's resolutions for you and your pet? Share with us in the box below.
---