One Petplan customer shares the story of her hero cat, Weasley, who has been giving blood regularly to save fellow felines.
---
Did you know that dogs and cats can give blood? Just like humans, poorly pets sometimes need life-saving blood transfusions. And that means there's a constant need for feline and canine blood donors. One of these animal heroes is Weasley, an affectionate five-year-old ginger cat from Hertfordshire.
From cat patient to cat blood donor
Weasley's owner, Mandie Pannell, had never heard of pets giving blood until Weasley, then aged two, hurt his leg one evening. With their usual vet practice closed, Mandie and her husband took Weasley to the Royal Veterinary College (RVC) in Hatfield. While they waited to be seen, something caught their eye.
'There was an advert on a TV screen in the waiting room talking about animal blood donors. It's not something I'd ever really thought about. But I'm a blood donor myself, and a nurse, too, so I was interested,' says Mandie. 'Weasley has always been a super-sweet, super-loving cat, so I thought he might make a good donor.'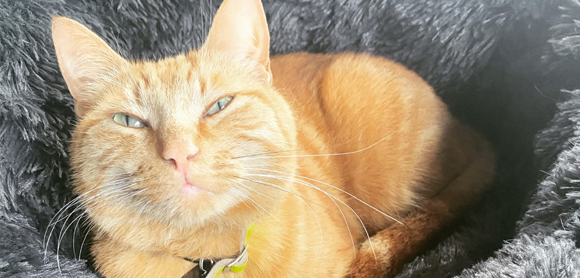 Giving blood for the first time
Once his leg had healed, Weasley returned to the RVC to give blood for the first time. 'Before their first session, every animal goes through a health check,' Mandie explains. 'The staff need to be sure the donor doesn't have any health issues, so they weigh them, check they're up to date with flea and worm treatments and vaccinations, give an echo [echocardiogram] ultrasound to make sure their heart is OK, and do a blood test to check their blood type (cats have different blood groups, similarly to humans). Most importantly, they make sure their temperament is suitable for them to donate.'
Cats don't roll up their sleeves to give blood, of course! Instead, it's usually taken from a large vein in the neck. The area is shaved and a numbing cream applied so the cat doesn't feel any pain. Afterwards, intravenous fluids are administered through the cat's leg to help maintain their blood pressure. 'Weasley would always come home with little shaved shapes on his paw and under his neck,' recalls Mandie.
Regular donor, hero cat
Cat blood donation itself normally takes just 10 to 15 minutes, but feline donors remain at the donation centre for up to four hours afterwards to check they are well hydrated and in perfect health before they return home. 'Weasley was always so relaxed and happy, purring contentedly throughout. He loved all the fuss and attention,' says Mandie.
'The team at RVC are amazing. They're so lovely, and so loving to the animals. They do everything they can to keep them calm and happy.'
There's no payment for animal blood donors in the UK, although Weasley was compensated with copious amounts of premium cat food! He also had a thoroughly deserved nomination for Hero Pet of the Year in the Petplan Pet Awards.
After three years of giving blood regularly, Weasley recently retired from the RVC's animal donation team. The staff team insisted on a farewell photoshoot with one of their favourite cat blood donors. Meanwhile, Mandie is still a regular attendee at the animal blood donation clinic with her dog Spock and younger cat Wookiee. So what keeps her returning time and again?
'It just feels like a really nice thing to do, to help other people when their pets are hurt or sick. If any of my animals were in an accident, I'd want them to have the blood they needed. I couldn't bear the thought of another cat or dog dying because blood wasn't available.'
The gift of life
Donated blood is used to treat pet patients in a huge variety of ways, from direct blood infusions in open-heart surgery and emergency trauma surgery to blood products required to treat immune-mediated conditions and cancers. At RVC alone, many hundreds of transfusions are carried out each year, helping to save hundreds of beloved pets' lives.
So, does Mandie have any advice for other owners who think their pet might have what it takes to be an animal blood donor?
'Cats can start donating once they're about a year old, and above a certain weight [3.5-4kg]. The Royal Veterinary College website has some really useful information. Or look online and get in touch with a donation centre near you,' she suggests. 'It's just a short journey there and back every few months – but it could be really significant for the life of a pet and their owner.'