Thanks to social media, our cat obsession has rocketed! From tabbies who've learned to Tweet to the celebrity cats of Instagram, meet some of the most successful internet-famous felines.
---
Remember Grumpy Cat, the original internet feline celebrity, whose permanently cantankerous expression launched a thousand memes? The much-missed, permanently pouting puss (real name Tardar Sauce) garnered over eight million likes on Facebook. She was also the poster cat for a generation of famous felines with their own social media accounts, advertising deals and armies of adoring followers. If you've ever wondered how to make your cat internet-famous, you could learn a lot from these five stars…
Nora The Piano Cat
Biography: 'The "Original" practice makes purr-fect.'
Nora sprang to prominence on YouTube when she played her first piano piece in 2007; her most popular videos have been viewed over 10 million times. She celebrated her 16th birthday in 2020 by playing a fugue on the theme of Happy Birthday (at least we think that's what it was), accompanied by loud and happy purring.
Previously a stray, Nora was rescued from a shelter in New Jersey, USA, by Betsy and Burnell, who fell in love with her despite already having five cats at home. Betsy is a piano teacher, so Nora may have picked up a pointer or too from her loving pet parent – but spontaneously started bashing out tunes herself. Her mantra? 'Practice makes Purr-fect!'
Find Nora the Piano Cat on YouTube.
Nala Cat
Biography: 'Guinness World record holder. Adopted from a shelter.'
LA-based Nala_Cat, the Kim Kardashian of the kitty world, has sewn up this sponsorship thing, snapping up contracts to promote cat litter, treats and even Skechers shoes! She currently holds the Guinness World Record as the most popular cat on Instagram with four million followers, and there's a whole collection of merchandise with her picture on.
But things weren't always so glamorous for Nala; adopted from a shelter at five months, she arrived at her forever home with breathing problems and needed nurturing to become a healthy cat. Her human family use her worldwide fame to support neutering and rehoming centres.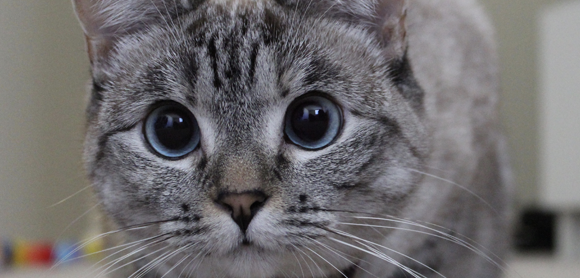 Find Nala Cat on Instagram @Nala_Cat or her website.
Larry The Cat
Biography: "Chief Mouser to the Cabinet Office for a decade and counting. 14 year old tabby, in position longer than the leader of any UK political party."
Strictly speaking, there are two Larrys – the real, working tabby introduced to the Cabinet Office on Whitehall to keep down the mouse population, allegedly with dubious success. Then there's Larry's popular X alter ego, @Number10cat, who posts humorous, left-leaning political commentary on a strictly unofficial basis, amassing more than 455K followers.
The real-life Larry was adopted from Battersea, and the rescue charity credits him with inspiring a 15% surge in the adoption of cats and dogs. This star among cats on the internet had arguably his most glorious moment in 2019, when he took shelter from the rain under a visiting Donald Trump's armoured car, leading the BBC's Jon Sopel to tweet: "BREAKING: anti-Trump demonstrators fail to stop @realDonaldTrump motorcade, but @Number10cat does."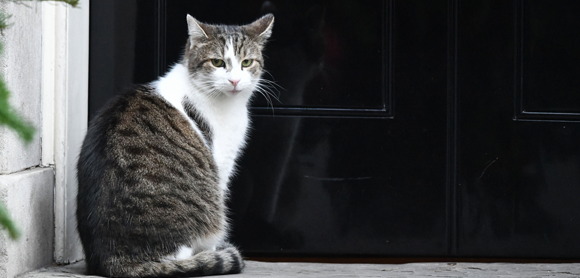 Find Larry the Cat on X @Number10cat.
Mango Brown
Biography: 'Spreading smiles 1 meow at a time!'
One of the handsomest cats of Instagram, Mango Brown is a beautiful Bengal who lives on the US West Coast. His committed 'CatDad' seems to spend an inordinate amount of time taking photos of 18-year-old Mango, who miaows and kisses to order. Eventually, a new arrival appeared on the scene in the form of a human baby – cue some sweet joint photoshoots – but Mango's place as top, er, cat seems secure.
Find Mango Brown on Instagram @Just Mango Brown.
King Louis
Biography: 'Part-time Model, Full-time Gentleman.'
Not every cat successfully leverages their Instagram profile to tout for modelling contracts, but 'King Louis' makes it look easy. With his sumptuous fur and yellow eyes, the regal-looking blue British Shorthair looks like he knows he's a celebrity cat. Apparently a natural in front of the camera, if you have an advert to shoot, Louis can be booked to star. His acting abilities include being able to sit, stay, 'talk' and work with children.
Find Louis on Instagram @kinglouis_britishblue or on his website.
Is your cat a bit of a social media star? Tag them with #PethoodStories on social media and we'll share your stories and pics!