Pet Halloween Costumes - Should You Be Dressing Up Your Furry Friends?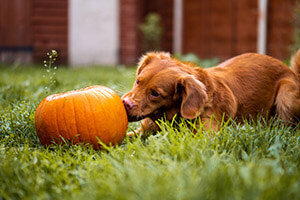 Pet Halloween Costumes: Should You Be Dressing Up Your Furry Friends?
Petplan looks closely at the debate surrounding whether to dress up your pets.
In recent years dressing up pets has become an increasingly popular phenomenon with many retailers stocking pet ranges alongside outfits for the rest of the family. However, not everyone is convinced, with some animal charities and vets strongly opposing the practice.
Halloween fancy dress is a key part of this seasonal celebration, but that's a human tradition so, before you pick your favourite pet Halloween costume, read on to learn why dressing up an animal companion may not be such a good idea...
Are pet Halloween costumes really for the pets?
People have different reasons for dressing up their pets. Some do it so their pet isn't left out, some so they get positive reactions on social media, others simply just think their pet looks cute and enjoy the sense of occasion a costume helps create. But no matter how well-meaning the intention, dressing up pets rarely benefits the animals themselves.
There are lots of other ways to get your pet involved in celebrations such as Halloween. For instance, you can add small items like bow ties or bandanas to their collars, and you may even feel like giving them some special treats to really embrace the spooky spirit.
Common problems with dressing up pets
From pet Halloween costumes to everyday fancy dress, the trend for putting clothes on our furry friends is undeniable. However, there are more potential problems associated with it than you may initially realise.
Do they have enough movement? Putting clothes on pets can be quite restrictive, getting in the way of everyday activities like walking, going to the toilet or grooming themselves. They might make your pet itchy while resting, and you should be mindful that sometimes putting animals in clothing can cause skin damage, as the added materials tend to irritate their skin. Additionally, depending on the clothing, your pet may get tangled up or caught on something.
Does it impact their temperature? It may stop your dog or cat from controlling their body temperature. This is particularly concerning for breeds that struggle in hot conditions and overheat easily.
Will it make your pet stressed? Each pet is unique and can react very differently in unfamiliar environments. Stressed cats might be aggressive towards you or make more noise than usual. Some signs of stress in dogs may include persistent yawning, licking, and repeatedly shaking their head from side to side. Wearing clothes isn't something pets are used to and therefore it doesn't come naturally to them. Alternatively, they may show more obvious signs they are unhappy, simply barking, trying to remove the clothing or refusing to move are also worth looking out for.
Is the clothing safe? As with children's costumes, some pet costumes are known to be highly flammable. With your pet likely to be feeling more unsteady and unsure when moving around in a costume, this risk is further heightened.
Keeping the above in mind can help you decide whether to dress your pet up or not. If dressing up your pet, choose the type of costume carefully and pay attention – if your pet is unhappy wearing a costume they will let you know.
When might you need to put clothing on your pet up?
Sometimes dressing up your pet can have a practical purpose. Certain types of pet clothes are useful and help keep your pet comfortable and safe, such as:
Coats and/or boots during cold weather. Wearing a suitable coat can greatly benefit pets, especially those whose fur is missing or very thin. At the same time, pet boots are a convenient solution for protecting paws from possible injuries and infection.
If your pet is recovering from an operation, they may need a surgical vest to stop them licking or chewing their stitches. Your vet will be able to advise you on this, but if the recommendation is to use one, it must be well fitting so there's no risk of tangling and/or tripping.
For guide dogs and other working animals, a hi-vis jacket helps them stay safe while navigating potentially dangerous situations. It also means they'll be easier to keep track of when out on winter walkies.
As long as your pet is relaxed and happy, there's no reason to avoid having them wear appropriate items of pet clothing.
Do you have any other thoughts on pet Halloween costumes, or dressing up pets in general? Let us know in the comments below...
Related Articles