Pet Travel to Europe After Brexit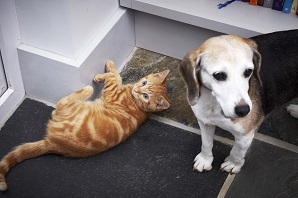 With details still up in the air regarding the UK's exit from the EU, we understand you may have questions regarding traveling to Europe with your pet and how this may affect your pet insurance. Rest assured we've compiled the latest details to help you with your travel plans.
Can I still travel to the EU with my pet?
The government is advising there will be changes for pet owners wanting to travel to the EU with their pets. It's best to keep an eye on the latest government advice and make sure you visit your vet at least 4 months in advance of travel.
To prepare for all scenarios, you'll need to complete the following steps before travel:
Get your pet microchipped
Ensure your pet's rabies vaccination is up to date
Return to your vet at least 30 days after your pet's rabies vaccination for a blood test to check it's worked
Wait three calendar months after a successful blood test before travel
Return to a vet within ten days of return travel for an animal health certificate
Check the latest advice at gov.uk/brexit-pet-travel
If your pet's vaccinations are kept up to date you won't need to repeat the blood test for each journey.
It's not just pets that will be affected by travelling to Europe after Brexit so don't forget to check implications on your own travels too.
New documents will be required for driving in the EU and some countries may expect extended validity dates on passports.
Stay up to date on the latest Government advice by visiting gov.uk/visit-europe-brexit.
Does Brexit affect my Petplan insurance cover?
The simple answer is no. Petplan will not be changing our Terms and Conditions regarding pet travel when we leave the EU.
We aren't changing our policies or the way we consider claims
We will continue to consider claims if your pet becomes ill or injured before or during a trip to the EU
We will continue to consider claims related to the loss of pet travel documents while on a trip to an EU country
We will not cover the costs of the vaccinations and tests now required to travel to the EU
We will also not cover any costs incurred if your pet hasn't had the relevant checks in time to travel
Do check your policy documents and Terms and Conditions for complete details on what is and isn't covered and always remember that cover varies between providers.
Pet Travel Advice
The recent Petplan Pet Census showed that 50% of pet owners would forego luxuries like holidays in order to accommodate their pets, and 49% of people have decided where to go based on their pet. If you are planning a holiday with your pet, we have lots of advice to help you with their needs.
With the new Brexit travel requirements you may weigh up whether a staycation is more suitable than traveling abroad. It's also important to consider things like keeping your dog or cat safe and comfortable for the commute, and whether they'll be happy in their temporary home from home.
Related Articles