From Instagram's celebrity canines to the pooches of TikTok, we meet some of the most celebrated dogs online – how many have you heard of? Plus, find out how to make your own pet a dog influencer.
---
These days most famous dogs on social media are attracting as many dedicated followers (and as much cash) as their human counterparts. Read on to meet some of the most photographed pooches on the planet and learn the secrets of their success.
Jiffpom
LA-based Jiff the Pomeranian, aka Jiffpom, may be a teeny-tiny pooch, but he's a social media giant, with over 30 million followers worldwide across his various platforms. No stranger to showbiz, he is regularly invited to glitzy events and has appeared in Katy Perry's music video for Dark Horse. He's the current Guinness World Record holder for the dog with the most Instagram followers. Not just a fluffy face, well-trained Jiff is adept at walking on his hind or front legs.
Follow Jiff on Instagram @Jiffpom or X @Jiffpom.
Buddy the Dappled Dachshund
Buddy from Oxfordshire shares his success, and his various social media platforms, with his Dachshund crew – Beau, Stella and Dulcie, plus friends. Owner Laura always dreamed of owning sausage dogs when she was growing up – today, she's a proud pet parent to Buddy and Beau, while her mum has also caught the bug and acquired Stella and Dulcie. She started Buddy's Instagram account to avoid deluging friends and family with photos of him, only to win legions of admiring followers online.
Find Buddy on Tiktok @buddythedappleddachshund or Instagram @buddythedappleddachshund.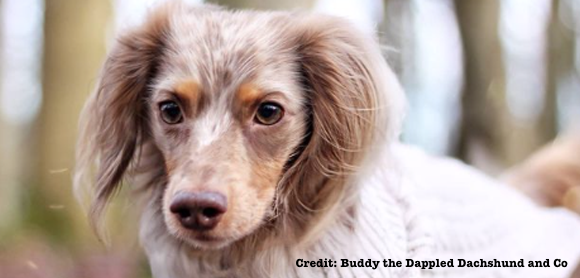 Tuna Melt
Tuna's story has melted millions of hearts across the globe, making him one of the most famous dogs on the internet. The Chiweenie (a Chihuahua-Dachshund cross) was born with an exaggerated overbite, possibly the result of irresponsible breeding, and was abandoned as a pup. His owner came across him at a dog rescue event in California, where he was the last pup in the crate. Luckily for both, it was love at first sight – and her Insta pics of him have won plenty of other devoted fans. Tuna has gone on to travel the world and produce a book, Tuna Melts My Heart: The Underdog with an Overbite, championing rescue dogs and rehoming centres wherever he goes.
Find Tuna on Instagram @tunameltsmyheart and read his travel blog at The Travelling Tuna.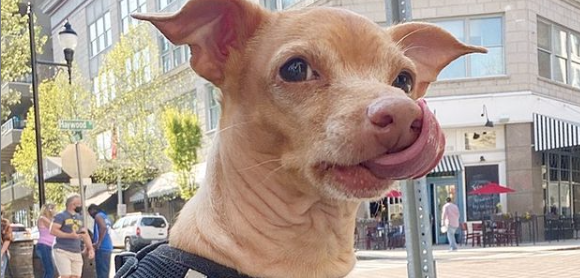 Skylar the Weimaraner
Elegant female Weimaraner Skylar is a growing social media sensation on Instagram, as well as a successful dog model who has been photographed for Chopard and Made.com. As her talent agent says, 'She can appear shy at first, and can seem aloof, but relaxes once she understands the situation she is in.' Based in Notting Hill (where else?), she's stopped for pawtographs on a regular basis, and is usually pretty gracious about it.
Find Skylar on Instagram @skylar_weimaraner.
Loki the Wolfdog
In 2013, Colorado-based dog lover Kelly Lund started taking photos of his new pup Loki, a Malamute-Husky hybrid with a bit of Arctic Wolf. Over a million followers later, Kelly decided to quit his day job to become his pet's full-time manager. Today, Loki has notched up some impressive clients on his modelling roster. But he's never happier than when adventuring in the wilds with his equally athletic owner, who is vocal about the exercise needs of larger dogs.
Find Loki on Instagram @Loki or on the Loki the Wolfdog website.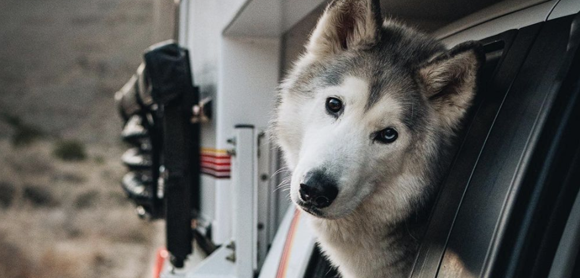 How to become a dog influencer
If you think your pooch has what it takes to become the next Buddy or Loki, here's how to make them an influencer in their own right...
Find your own niche. It's good to check out what the competition is doing, but you want to stand out from the crowd.
Setting up an Instagram or TikTok account is the easy part. First, do some research on the basic skills you need to send your pet's profile into the stratosphere, such as social media strategy and how to attract followers. The internet is full of great advice (just don't get swamped in it).
You'll need to be able to take a great pet photo. And if you're planning on posting on TikTok or YouTube, you'll need decent video skills, too.
Write from the heart. Content that feels too staged, or is too similar to another famous dog's feed, is unlikely to get you the success you want.
Is your dog a social star in the making? Tag them with #PethoodStories on social media and we'll share your stories and pics!