Beloved pet and therapy dog Tetley bounced back after losing several toes to squamous cell carcinoma, as his owner Tessa explains.
---
With five dogs already at home, Tessa Driscoll wasn't initially looking for a puppy when black Labrador Tetley came into her life. 'My dog-breeder friend sent a photo, saying he was the only puppy left from the litter,' she says. 'So I had to have him!'
Tetley soon proved to be a big character. 'He's very vocal, even though Labradors aren't supposed to be,' Tessa says. 'And he doesn't bark as such; instead, he sounds like Chewbacca from Star Wars.'
Tetley grew up to become a working gun dog as well as a Pets As Therapy dog, making regular visits to a local secondary school to help children by providing the companionship of a friendly pet. Then, when a relative of Tetley's was having open-heart surgery and needed a transfusion, he became a canine blood donor, too.
'It was a very easy process, and dogs don't mind it,' Tessa says. 'So I couldn't see any reason not to continue. Tetley even donated blood to a cat in a process called xenotransfusion. If no cat blood is available, dog blood can be used, although this is relatively unusual.'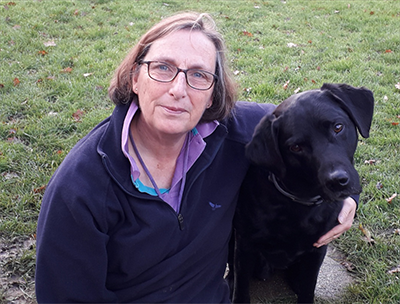 Noticing signs of dog foot cancer
Things began to change in June 2020, when, at the age of eight, Tetley started to show intermittent signs of lameness. 'He would get worse, then get better again, so to start with, I didn't worry unduly,' Tessa explains. 'Then, one day, I noticed there was a nail I couldn't cut without causing him distress. I took him to see a specialist and as soon as he touched the toe, it was apparent from the pain it caused that all was not well.'
Tessa went to her own vet, Roger Holden, to have Tetley's nail removed, but Roger decided to carry out an X-ray first. When he X-rayed Tetley's foot, Roger was concerned about the texture and irregularity of the bone within the toe. Having seen something similar previously, he had strong suspicions that it was squamous cell carcinoma (SCC), a type of skin cancer.
On Roger's advice, the toe was removed and sent for tests, which confirmed that Tetley had SCC in his nail bed. The cancer had been eroding the bone away – and unfortunately, it was soon discovered that both of Tetley's front feet were affected.
As with any cancer in dogs, Tetley's condition was serious. In August 2020, he was given three to six months before the pain wouldn't be able to be controlled. 'Chemotherapy alone isn't a cure for SCC, so I didn't think it was right to put Tetley through that. The only option is to surgically remove it,' Tessa explains. 'After a lot of discussion with experts, and despite a very guarded prognosis, we knew we had to risk removing another two toes. But everyone who knew Tetley agreed that if any dog could cope with such disruption, it was him.'
Nursing a dog cancer survivor
'Within 24 hours, we knew we'd done the right thing,' Tessa says. 'We were told to keep turning Tetley overnight so he wasn't stuck in one position, but he managed to turn himself. The next day, we carried him into the garden, and after a while he got up, walked three steps, and had a wee. It was amazing he'd made such progress so soon.'
Tetley's rehabilitation was intense, and included physiotherapy and hydrotherapy – which Tetley still has today – as well as very gradual increases to his exercise routine. 'The first few days were hard,' Tessa explains. 'We had to carry him around, and there were lots of dressing changes at the vets. But Tetley was an amazing patient and took it all in his stride.'
When the bandages came off, Tetley was still hobbling, and Tessa wondered if that would be the extent of his recovery. 'But now, from the way he runs around, you'd never know he'd lost toes,' she says. 'Tetley had to retire from being a working dog and a blood donor, but he's still a Pets As Therapy dog and has plenty going on in his life.'
Spotting squamous cell carcinoma in dogs
Remarkably, Tessa's experience with Tetley also helped her support another of her dogs through cancer when they developed the same condition. 'I couldn't believe it happened again,' Tessa says. 'But our previous experience meant it didn't get the chance to spread.' As soon as her pet developed a toenail that was painful to touch, Tessa and the veterinary practice sprang into action, recognising it as a sign of squamous cell carcinoma in dogs' toes.
'The idea of not having Tetley doesn't bear thinking about,' says Tessa. 'I love watching the kids with him at Pets As Therapy, because the children have problems but their therapy dog does, too. It shows kids that things can go wrong, but you can bounce back. Most don't even notice he has toes missing, until we tell them!'
Is your pet a born survivor? We love hearing your real-life stories – share them on social media with the tag #PethoodStories