Kitten and puppy proofing your home: how to keep them safe and away from danger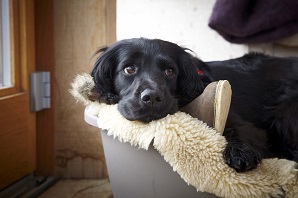 Baby proofing a house is something every new parent knows they need to do – but making sure your home is safe for any new pets is also vitally important.
Whether you have a boisterous new puppy or an inquisitive kitten, there are plenty of dangers in any home that can cause injury or distress to your new arrival.
Petplan explores just a few of the things you need to consider when pet proofing the different rooms in your home…
Pet proofing your hallway
While there may not appear to be a vast amount of danger waiting for your cat or dog in your hallway, there are still plenty of things to think about.
Make sure the front door is securely shut and all doors into other, more hazardous rooms, are also secure.
Speaking to Petplan's Pet People magazine, pet behaviourist Claire Hargrave recommends installing a catflap that's activated by a chip or collar, meaning other cats in your area can't enter your home.
Other things to consider, include ensuring telephone and internet cables are also be kept out of reach of prying paws and teeth!
Pet proofing your living room
You need to ensure your living room is kept as tidy as possible and any dangerous items – such as electronic devices or blind cords – are kept well out of reach of any dog or cat you have in your home.
Like humans, pets love to be warm and cosy so, to avoid any potential dangers, ensure any fireplaces are screened off and avoid open flames such as candles where possible.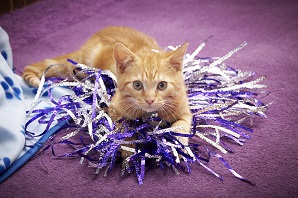 Pet proofing your kitchen
It goes without saying that most kitchens are full of dangerous objects that any person – or animal – could be harmed by.
Just as you would if you had a baby or child, ensure all dangerous substances and things such as knives are kept well out of reach and that drawers have child-proof latches to stop any puppies or kittens getting in where they shouldn't.
Washing machines and tumble driers should also be securely closed as pets love to climb into the warm cosy spaces.
Seemingly harmless food or house plants can also be dangerous to pets, so ensure any plants, liquids or food not specifically for them are kept in a secure place.
Things such as raisins, grapes and chocolate can be extremely harmful to dogs, while lily pollen can be lethal to cats. These are just some examples so be vigilant and make sure you know the full facts by speaking to your vet.
Pet proofing your bedroom
A well-loved pet is attracted to things that smell like you – and nowhere smells more like you than your bedroom!
Make sure that any shoes or clothes are kept in cupboards and that your pet can only get into your bedroom when you want them to by keeping the door shut and windows closed as cats in particular can make a beeline for them.
Pet proofing your bathroom
Along with the kitchen, the bathroom is potentially the most dangerous room in the house, so due-diligence is vital.
As with previous rooms, ensure that cupboards are closed so any potentially hazardous materials – such as medicine, razors or electrical goods – are securely locked away.
You may be all too aware of the difference between drinking water and bath or toilet water, but your pet won't be such a connoisseur. Keep the toilet lid down to stop pets diving in and also drain the bath water as soon as you've finished.
Pet proofing your garden and garage
Pet proofing shouldn't stop in your home – gardens and garages are full of things that can prove dangerous to your pets.
Plant food and other chemicals (ingesting anti-freeze which contains Ethylene glycol can be fatal for cats) should be kept in a secure place, while fencing should be well fitted and big enough to make sure any dogs cannot get out.
Meanwhile, the best way to pet proof your garage is to simply ensure they cannot get in there. Cars, tools and fuel are all incredibly dangerous to pets so fit locks and close all doors securely when entering or leaving.
As always, this piece contains plenty of things to consider, but is not an exhaustive list so always consult your vet when it comes to introducing a new pet into your home.
Do you have any tips of your own? What are the things your pet likes to do around your home? Let us know your stories and tips below…
Follow Petplan UK on Twitter and Facebook for more advice and news