Owner Rosie West explains why her beloved assistance dog Barnabus is her most trusted companion – and how they've looked after each other through tough times.
---
Who would you trust with your life? It's not a question many of us have to answer every day. For Rosie West in Exeter, however, there's no doubt who she'd turn to: it's Barnabus, her handsome chocolate Labrador and assistance dog. He's the heroic four-legged companion she calls 'my adoring, caring, funny, fluffy shadow'.
Rosie was just 11 when she was diagnosed with a rare and debilitating condition called complex regional pain syndrome (CRPS), along with the neurological disease dystonia. It means she uses a wheelchair and her body, which is locked in spasm, is in constant pain. Reliant on family and carers for almost everything, Rosie found the years before Barnabus came along extraordinarily tough. 'I had no hope,' she says. 'I'd lost the life I knew as a young, happy and healthy girl, and became someone needing constant care, hospitalisation and surgery.'
Nevertheless, Rosie pursued her passion, embarking on a degree in film studies at Falmouth University. While studying there in 2013, she received some news that she longed for: her three-year wait for an assistance dog from the charity Canine Partners was over.
That dog, Barnabus, had already completed a 16-month intensive assistance-dog-training programme specifically designed around Rosie's disability needs. 'No wonder he was "my Barnabus" from the moment we met,' she says.
Rosie spent two weeks training with Barnabus at Canine Partners' residential centre in West Sussex: learning commands, finding out how to look after Barnabus and discovering what motivates him. 'It's food, of course,' she laughs. Mr B (as he's also known), loves a banana, and can even peel one himself.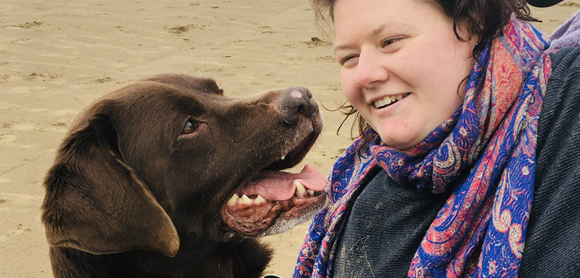 On duty as an assistance dog
Assistance dogs can be trained to provide support to their owners in a huge variety of ways. In Barnabus's case, his long list of caring duties includes picking up anything Rosie drops and giving it back; opening and closing doors, drawers and windows; wiping the floor with a cloth; flushing the toilet; helping Rosie dress and undress; and bringing over her medication. He can even undo the foot straps on her wheelchair and take off her shoes and socks!
Barnabus has also memorised Rosie's supermarket shop and can pick the required items from the shelf – much to the amazement of onlookers. He can even use an ATM if he has a bit of help with the PIN number: inserting Rosie's card, taking back the card, and collecting the cash. If Rosie ever falls out of her wheelchair, he brings her phone so that she can call for help, and lies down with her to provide comfort, stability and warmth until it arrives. 'He even loves clothes shopping,' smiles Rosie. 'He's the perfect metrosexual male!'
When Rosie says having Barnabus is life-changing, it's no understatement. She is in no doubt that he can intuitively sense when she's about to have a spasm attack. These episodes, which can last up to two hours, cause Rosie's muscles to tighten and contort, risking joint dislocation or even suffocation. 'Ten minutes before it starts, Barnabus begins watching me intently, as if he's tuning in to a change in my brain activity,' says Rosie. 'He nudges me to move somewhere safe and uses his weight to hold me down during the attack, so I don't accidentally injure myself.'
When in work mode, Mr B wears a purple vest, which says, 'Please don't distract me.' He enjoys every minute of his assistance-dog-caring duties, but he also gets plenty of down time and cuddles with Rosie as well. 'Barnabus is a very cuddly, affectionate boy, but he knows I'm in lots of pain, so he is very gentle with me,' she says.
Like most Labradors, Barnabus also has a playful side and enjoys a game. 'He loves his rope-tug toys,' says Rosie. 'Sometimes I attach a teddy toy to a lead at the back of my wheelchair and set off as fast as I can, with Barnabus chasing behind. He gets to play with other dogs on his daily walks, and loves a good sniff around and a splash in the river.'
Overcoming canine cancer
The pair share a reciprocal bond of understanding that goes beyond words. When he was five years old, Barnabus was diagnosed with a cancerous tumour on his face and, through surgery and treatment, has twice fought it off. 'The thought of losing my best friend – and my independence – was devastating,' says Rosie. 'Seeing how my boy has fearlessly gone through everything and come out the other side, still with a huge lust for life, encourages me to be strong. Barnabus now has a slightly wonky nose and a curled lip, but to me, they make him even more cute.'
Barnabus is a testament to the heroic abilities of our four-legged friends, as well as the caring skills of an assistance dog. And once he retires from active duty, he'll stay on with Rosie, her two cats and her guinea pig. 'He's given me my independence and made me me again,' she says. 'Thanks to him, I'm not just a disabled girl. I used to feel guilty asking for help, but there's none of that with Barnabus. He wants to be around me. He puts a smile on my face and makes life brighter. We are a true partnership.'