Dog-Friendly Holidays to Take in the UK in 2020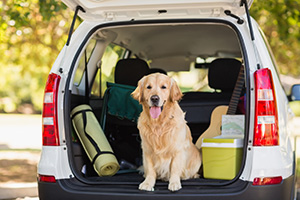 Dog-Friendly Holidays to Take in the UK in 2020
Dogs are important to humans in all kinds of ways. They're our best friends and are the family that we choose. This being the case, it's not the least bit surprising that there are now more dog-friendly holidays available than ever before.
The Petplan Pet Census shows that more than 60% of dog owners plan holidays around their pets. However, with so much choice, trying to decide on the right dog-friendly holiday can often seem overwhelming – but it doesn't have to be.
Petplan looks at some of the best dog-friendly holiday destinations to make travelling with your dog easier for you both...
1. Cornwall
As well as being one of the most popular destinations for a UK break, Cornwall is dog-friendly all year round. Perranporth, Sandymouth, St Merryn and Polperro are some of the most picturesque places in the region to explore with your pet, offering everything from parks and forests to beaches and wildlife areas. Choose accommodation that welcomes your furry family member, then set off on an adventure in the countryside.
2. Lake District, Cumbria
If your dog loves walking, you must take them to the Lake District. Having provided inspiration to the famous Romantic poet William Wordsworth, the scenery here is among the most beautiful in the world. There's plenty of space for them to run around, with 16 breath taking bodies of water that encompass the national park providing the perfect backdrop to any dog-friendly holiday. Dogs can even join the lake cruise at Coniston Water free of charge! If that's not worth the trip to you, we don't know what is.
3. Camber, East Sussex
Camber has always been a haven for dog owners on their holidays. This charming village gives you the freedom to plan a pet-friendly trip on your own terms; just be sure to take a frisbee for quick, easy exercise. Also, remember to take some doggy treats and a camera to get plenty of fantastic pictures of your four-legged friend as they frolic on the beach. Dogs can even try the amazing Romney, Hythe and Dymchurch Railway, which lets you both enjoy the history and lovely scenery of the area.
4. North Wales & Snowdonia
Boasting a vast, varied landscape of lush countryside, sweeping rivers, impressive mountain ranges, rolling hills, sprawling valleys and quaint little villages, North Wales and Snowdonia are perfect for dog owners looking to bond with their pets. From scaling Wales' highest peak to visiting the dog-friendly Sygun Copper Mine, you can plan an itinerary depending on both your capabilities. For a dog-friendly holiday that's full of excitement, discovery and challenge, head to North Wales and Snowdonia.
5. Yorkshire
Encompassing nearly a third of the total area of national parks in England – the North York Moors, most of the Yorkshire Dales, and part of the Peak District – Yorkshire is also home to two Areas of outstanding natural beauty, which between them cover over 800 square kilometres. As such, you'll be spoilt for choice when it comes to going for walkies, and many regional tourist attractions welcome dogs. From Skipton Castle to Robin Hood's bay, the things to see and do across Yorkshire with your canine companion are practically endless.
6. Forest of Dean, Gloucestershire
As far as dog-friendly holiday destinations go, the Forest of Dean is the ultimate. Here, ancient trees now live happily alongside modern additions, such as steam trains and sculpture trails – all of which you and your dog will surely love. We highly recommend visiting Mallards Pike, dog-friendly all year round, with multiple picnic spots overlooking beautiful lakes as well as dedicated 'doggy beach' sections. You'll also find numerous walking, running and cycling routes constructed by the Forestry Commission. Just make sure your beloved pooch doesn't go wandering with any of the wild animals or livestock the area is famous for!
7. Devon
If it's magnificent coastal views, intriguing attractions and reliably decent weather you're after on a dog-friendly holiday, Devon is hard to beat. Many of the region's top tourist spots accommodate canine companions, including the Donkey Sanctuary, most of the grounds at Powderham Castle, Devon Railway Centre and the captivating stately home of Killerton. This means that whether you're travelling just the two of you or with your family, everyone will have a great time in Devon – especially dogs.
8. Northumberland
Does your dog love the great outdoors? If so, they'll feel right at home in Northumberland. Long-distance trails branch and fan out and usually criss-cross with numerous shorter paths, creating a massive amount of variety for dogs and owners alike to savour. One minute you're walking along a riverbank, the next you find yourself hiking through the hills above. It's the perfect destination for dog owners who want to let their canine companions roam free of their leashes. Although you should always ensure your pet is safe while on holiday.
9. South Wales
All responsible dog owners should know to choose holiday destinations where their pet can be both mentally and physically stimulated. This is where South Wales excels. Home to the country's most popular beach, Rhossili Bay, it's a dog-friendly location the whole family will love. Any pet with a penchant for fetch, running wild or even simply enjoying a steady walk should feel happy and at ease here. Pinning down the perfect dog-friendly holiday in the UK is seriously hard, but you can't go wrong with South Wales.
10. Anglesey
From playful puppies to seasoned seniors, taking your dog on a carefree getaway is sure to raise their energy levels for the better. And where else but Anglesey for them (and indeed you) to reconnect with nature? Over 125 miles of coastal paths are ripe for exploring. En-route you're likely to encounter fishing villages, woodlands, cliff tops and vast, open sandy beaches. All this will serve to excite your canine companion and make them happy beyond limits.
There are many great destinations for dog-friendly holidays in the UK, but Anglesey is up there with the very best.
Whatever you do, before embarking on your dog-friendly holiday in the UK in 2020, make sure to have the correct pet insurance policy in place to cover them during all their furry adventures. Discover Petplan's dog insurance policies to find the best deal for your four-legged friend.
Do you have any other tips for dog-friendly holidays to take in the UK in 2020? Let us know in the comments below...
Related Articles