Where to adopt a pet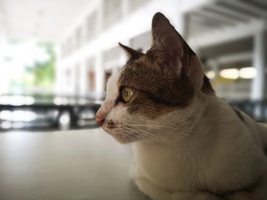 Whether you're looking to get your first pet or add another to your household, there are several avenues you can explore. One of these is adoption through a cat or dog rescue centre – where animals that have been neglected, abandoned, abused or are no longer able to be cared for, await loving new owners. Here, we reveal all you need to know about adopting a pet.
Why choose a rescue animal?
You'll be giving a second chance to one of the thousands of dogs and cats that are waiting to be adopted 'through no fault of their own', states Steve Craddock, centre manager at Battersea Dogs & Cats Home London. 'Rescue animals are just like any others looking for a home.'
Also, by choosing a pet from a rescue centre, 'you know more about the animal's background and personality', explains Steve. 'There is professional advice given, as well as a thorough matching process – which helps find [owners] the ideal pet, but also helps animals find their perfect home.'
Our charity partners
A key part of Petplan's work involves partnering with a range of charities – the majority of whom are dedicated to rescuing and caring for animals in need and finding them loving new homes. Battersea Dogs & Cats Home, Blue Cross, Cats Protection and Dogs Trust are just some of the charities we work with -– and, in recognition of the vital role our partner charities play in animals' lives, if you adopt a cat or dog through one of their centres, you'll receive 4 weeks' free Petplan insurance.
How to find a dog rescue centre
With hundreds of dog rehoming centres, it can be hard to know where to start searching. A good port of call is https://www.petplan.co.uk/rehome-a-pet, where a quick location search reveals local dog and cat rescue centres and their contact details. While many centres take dogs of all shapes and sizes, some cater to specific breeds, such as Greyhound rescue and Boxer rescue dogs. Friends and family could also recommend centres nearby, and a Google search is always helpful.
Top pet rescue centres
Thanks to TV shows providing behind-the-scenes access, the centres run by Battersea Dogs & Cats Home and Blue Cross are some of the most well-known. However, there are a host of other leading rescue organisations, including Cats Protection, which finds new homes for around 40,000 felines each year, and Dogs Trust, which rehomes around 13,000 canines annually. While larger charities tend to be more well-known, don't forget there are still cats and dogs in 'many local rescue centres nearby that you may not have realised existed', adds Steve.
What are some ways to adopt a rescued dog?
Once you've decided to adopt a rescue dog, the process is straightforward. Most rescue centres share photos of their animals online so that once you've spotted a dog you'd like to potentially give a new home to, you can simply fill in the online application form.
If you're looking to adopt a new feline, there are plenty of cat rehoming centres that follow the same process. From there, the centre will arrange for you to visit and meet with one of their staff members to set the ball in motion for taking your new furry friend home!
Another avenue could be retired guide dogs. Did you know that 25% of aspiring guide dogs are withdrawn from training because they don't make the grade? However, these canines can make great family pets, and are always looking for homes. Contact www.guidedogs.org.uk for further information.
And if you think you could offer a home to an older dog, then your perfect pet may be waiting for you at Oldies Club. This voluntary organisation is looking for people to provide a loving home for these furry seniors who can make ideal pets for first time owners. Find out more at www.oldies.org.uk.
How to adopt a dog from abroad
It's not just in the UK that dogs are awaiting new owners. There are numerous websites with rescue dogs (and in many cases, also cats) available for international adoption from countries such as Spain, Romania and Thailand.
While these charities provide support, it's worth taking into consideration that adopting from abroad is costlier and more time-consuming, and you likely won't be able to meet your new pet before it arrives.
Prior to its arrival, your pet will need a travel fare, passport, vaccinations and microchip, which will all come with costs attached. Upon landing in the UK, various service, handling and entry fees can be expensive, and owners are required to pay 20% VAT on the cost of the animal and its travel fare. Plus, registering with a local vet and checks for any potential medical concerns will also involve payment.
Although this can be a highly rewarding experience in the end, it can be a long process. Undertaking additional paperwork and allowing for quarantine can take months. And, unlike with animals based in the UK, there's a good chance you won't be able to meet your furry friend prior to adoption, or obtain a sound understanding of its temperament and behaviour – which can sometimes prove challenging when it comes to settling in.